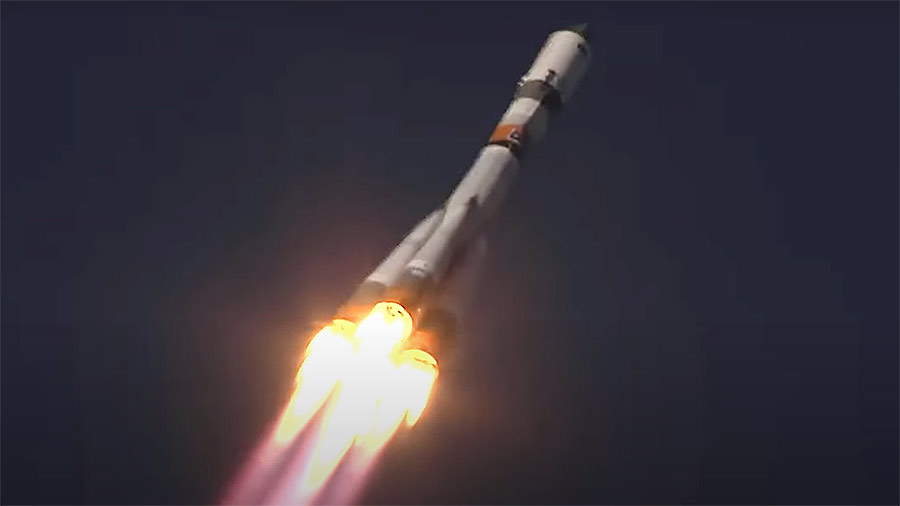 A cargo craft is in orbit today on its way to the International Space Station following its Friday morning launch. Meanwhile, advanced space biology is underway aboard the orbital outpost to improve life on Earth and in space.
The Roscosmos 86 space freighter is in Earth orbit and racing toward the space station after launching at 4:25 a.m. EDT today from the Baikonur Cosmodrome in Kazakhstan. The Progress 86 is on a two-day delivery mission carrying nearly 5,600 pounds of cargo to resupply the Expedition 70 crew. Cosmonauts Oleg Kononenko and Nikolai Chub will be on duty Sunday morning monitoring the cargo craft's automated docking to the Poisk module planned for 6:14 a.m.
Both cosmonauts, including Flight Engineer Konstantin Borisov, had a light-duty day at the end of the week. The trio spent Friday morning cleaning ventilation systems throughout the station's Roscosmos segment then relaxed during the afternoon. Borisov will assist his cosmonaut coworkers on Sunday photographing the docking activities and deconfiguring docking gear after the vehicle's arrival.
Bioprinting and DNA extraction were the main research activities on Friday as astronauts Jasmin Moghbeli  and Satoshi Furukawa contributed to scientific knowledge advancing health for humans living on and off the Earth. Moghbeli from NASA kicked off her day in the Columbus laboratory module swapping cleaning syringes inside the BioFabrication Facility (BFF), a biological printer. Next, she removed a tissue cassette containing printed cardiac tissue samples from the BFF. The cassette was then installed into an advanced sample processor that can be configured for a variety of biological and physics investigations.
Furukawa from JAXA (Japan Aerospace Exploration Agency) spent Friday working in the Kibo laboratory module extracting DNA samples for the new uTitan investigation. He stowed those samples in a science freezer for later analysis to help researchers explore a method for automated nucleic acid extraction in microgravity. The method may inform DNA sample processing and sequencing techniques on spacecraft and remote locations on Earth.
NASA astronaut Loral O'Hara worked out in the Destiny laboratory module for an exercise study observing physical fitness in microgravity. She pedaled on an exercise cycle wearing breathing gear and sensors for the long-running study measuring a crew member's aerobic and cardiovascular conditioning.
Commander Andreas Mogensen stowed the exercise cycle after O'Hara's workout session and assisted Moghbeli as she serviced the printed cardiac tissue samples. Mogensen from ESA (European Space Agency) then spent the afternoon collecting microbe samples from station surfaces for incubation and analysis. O'Hara also worked in the afternoon collecting station air samples for microbial analysis.
---
Learn more about station activities by following the space station blog, @space_station and @ISS_Research on X, as well as the ISS Facebook and ISS Instagram accounts.
Get weekly video highlights at: https://roundupreads.jsc.nasa.gov/videoupdate/
Get the latest from NASA delivered every week. Subscribe here: www.nasa.gov/subscribe