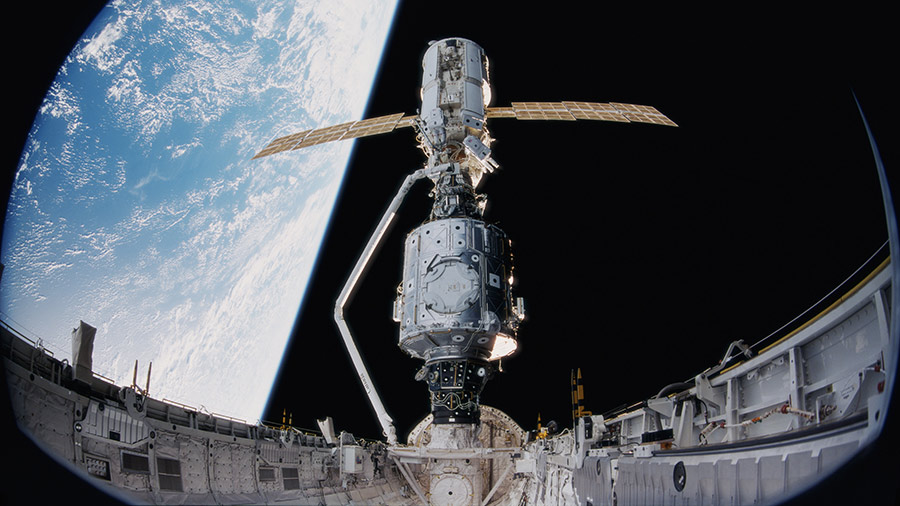 25 years ago today, the first two modules of the International Space Station – Zarya and Unity – were mated during the STS-88 mission of space shuttle Endeavour. The shuttle's Canadarm robotic arm reached out and grappled Zarya, which had been on orbit just over two weeks, and attached it to the Unity module stowed inside Endeavour's payload bay. Endeavour would undock from the young dual-module station one week later beginning the space station assembly era.
The seven-member Expedition 70 crew called down to Earth today and discussed with NASA Associate Administrator Bob Cabana and International Space Station Program Manager Joel Montalbano the orbital outpost's accomplishments since the assembly era began on Dec. 6, 1998. Cabana was the commander of Endeavour when both modules were robotically mated then outfitted during a series of spacewalks. Montalbano, NASA's sixth station leader since the program's inception, remarked today, "We want to celebrate today all the people who designed, built, and operate the International Space Station."
Meanwhile, a host of space biology work continued aboard the orbital lab on Wednesday to improve human health on Earth and in space. Cargo operations and lab maintenance rounded out the day keeping the four astronauts and three cosmonauts busy during the middle of the week.
Aging studies are taking place on the orbital lab helping researchers understand space-caused accelerated aging symptoms at the molecular and cellular level. NASA Flight Engineers Loral O'Hara and Jasmin Moghbeli took turns processing liver stem samples for the Space AGE study taking place in the Kibo laboratory module. Kibo's Life Science Glovebox is hosting the research operation that is exploring aging-like properties of immune cells and the regenerative capacity of liver cells.
Mental health and cognition are key concerns for NASA and its international partners as the space agencies plan longer human missions farther away from Earth. Commander Andreas Mogensen wore virtual reality goggles for the VR Mental Care experiment today and watched a 360-degree movie to understand its stabilizing effect on the nervous system. Flight Engineer Satoshi Furukawa took a computerized robotics test for a CIPHER investigation studying how in microgravity affects brain structure, sleep quality, stress, and immune function.
Mogensen from ESA (European Space Agency) and Furukawa from JAXA (Japan Aerospace Exploration Agency) also partnered with O'Hara and Moghbeli transferring payloads in and out of the SpaceX Dragon cargo spacecraft throughout the day. The foursome then spent the rest of Wednesday supporting a variety of other ongoing space research and life support activities.
Veteran cosmonaut Oleg Kononenko tended to eggs being incubated for a Roscosmos space biology study, deployed carbon dioxide monitors, and practiced using emergency masks. Flight Engineer Nikolai Chub worked on an immunity study and continued unpacking cargo from the Progress 86 resupply ship. Flight Engineer Konstantin Borisov started his morning replacing electrical plumbing gear then worked in the afternoon checking smoke detectors and charging a science laptop computer.
---
Learn more about station activities by following the space station blog, @space_station and @ISS_Research on X, as well as the ISS Facebook and ISS Instagram accounts.
Get weekly video highlights at: https://roundupreads.jsc.nasa.gov/videoupdate/
Get the latest from NASA delivered every week. Subscribe here: www.nasa.gov/subscribe