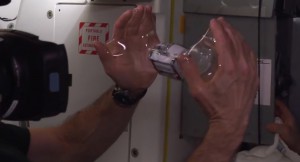 Astronauts on the International Space Station are the "focus" of some of the first 3-D camera footage posted to a new playlist of 3-D videos on the agency's official YouTube channel.
> Read more and watch the videos
The new gallery includes a tour of the space station and astronauts exploring water surface tension in microgravity with both the 3-D camera and a miniature HD camera in a waterproof case inside a volleyball-sized water bubble. Standard two-dimensional versions of both the tour video and the water surface tension video are also available.
Meanwhile, the homebound Expedition 40/41 trio of Soyuz Commander Max Suraev and Flight Engineers Reid Wiseman and Alexander Gerst spent Thursday morning reviewing their Soyuz undocking and descent activities ahead of their Nov. 9 landing in Kazakhstan. Their orbiting Expedition 41/42 crewmates Flight Engineers Barry Wilmore, Alexander Samokutyaev and Elena Serova practiced emergency communication and coordination tasks.
› NASA TV coverage schedule of Expedition 41 landing activities
At the Gagarin Cosmonaut Training Center in Star City, Russia, the Expedition 42/43 crew's Terry Virts of NASA, Anton Shkaplerov of the Russian Federal Space Agency (Roscosmos) and Samantha Cristoforetti of the European Space Agency are making final preparations for launch Nov. 23 from the Baikonur Cosmodrome in Kazakhstan on a Soyuz spacecraft that will deliver them for a 5 ½ month mission on the International Space Station.
And for the latest roundup of information on the space station, watch the latest edition of Space to Ground.
> Watch  Space to Ground "Counting Down to Departure"
> View images of the Expedition 42 crew's launch preparations on Flickr
› Read more about Expedition 41
› Read more about Expedition 42