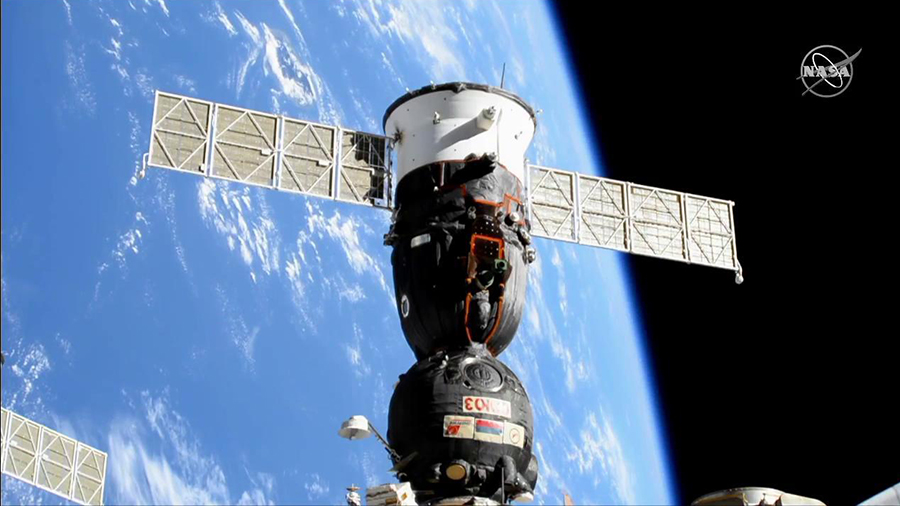 The Soyuz spacecraft carrying three people back to Earth from space undocked as scheduled from the International Space Station at 3:37 a.m. EDT.
NASA astronaut and Expedition 60 Flight Engineer Nick Hague, Expedition 60 and Soyuz commander Alexey Ovchinin of the Russian space agency Roscosmos, and visiting astronaut Hazzaa Ali Almansoori of the United Arab Emirates are expected to land in their Soyuz MS-12 spacecraft southeast of the remote town of Dzhezkazgan on the Kazakhstan steppe about 7 a.m.
At the time of undocking, Expedition 61 began aboard the space station under the command of ESA (European Space Agency) astronaut Luca Parmitano. The crew consisting of NASA astronauts Christina Koch, Jessica Meir and Andrew Morgan as well as cosmonauts Alexander Skvortsov and Oleg Skripochka of Roscosmos will continue work aboard the orbiting laboratory on hundreds of experiments in biology, biotechnology, physical science and Earth science.
NASA will resume coverage of Hague, Ovchinin and Almansoori's landing back on Earth on TV and online at 5:30 a.m., with the deorbit burn scheduled at 6:06 a.m.
Learn more about station activities by following the space station blog, @space_station and @ISS_Research on Twitter as well as the ISS Facebook and ISS Instagram accounts.