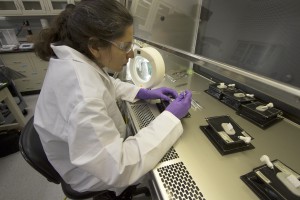 Plant growth in space and combustion in microgravity are two of the areas of research that will gain special attention thanks to the payloads and supplies to be launched to the International Space Station aboard CRS-7.
A SpaceX Dragon spacecraft is to lift off aboard a Falcon 9 rocket Sunday at 10:21 a.m. EDT loaded with more than 4,000 pounds of experiments and supplies. The payloads include hardware and other critical materials for more than 30 student experiments as well as 35 scientific investigations to be performed by astronauts during Expeditions 44 and 45.
Pouches containing seeds of lettuce and cabbage – pictured being prepared on Earth – will be taken to the station for the Veg-03 experiment which will see astronauts tend to the plants as they grow in orbit. The Dragon will also carry materials for investigating meteors as they fly into Earth's atmosphere. The Japanese Aerospace Exploration Agency, JAXA, will use a small rack inside the Kibo module of the station for the combustion research with materials brought up on the Dragon.
For more details about the mission and its payloads, take a look at the spacex_crs7_mission_overview.