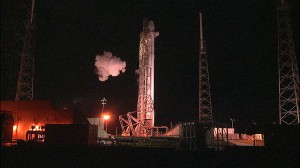 Despite the early hour, Cape Canaveral Air Force Station in Florida is abuzz with activity as launch managers and controllers prepare for this morning's planned liftoff of the SpaceX Falcon 9 rocket and Dragon spacecraft. The SpaceX CRS-5 mission is the fifth in a series of cargo resupply flights to the International Space Station, and is set to deliver science experiments, technology demonstrations and supplies for the station's resident crewmembers.
Liftoff from Space Launch Complex 40 is set for an instantaneous launch opportunity at 6:20 a.m. EST. Weather is 90 percent "go," with thick clouds the primary concern.
Both the Falcon 9 and the Dragon are powered up, and the rocket's propellants – RP-1 kerosene and liquid oxygen – already have been loaded.