At the Sun
Greetings from the Sun! Today is the final stop of our #SolarTour and we've got some big news from Parker Solar Probe. 
---
Hot off the press!
We've touched the Sun! Parker Solar Probe is officially the first spacecraft to fly through the Sun's upper atmosphere – the corona – sample particles and magnetic fields there. Flying so close to the Sun is revealing new things about our star, like where striking magnetic zig-zag structures in solar wind, called switchbacks, are born. Learn all about it: go.nasa.gov/3oU7Vlj
---
Sharing Parker's journey
As Parker Solar Probe flew through the solar atmosphere, it scooped up a bit of plasma in a special instrument called a Faraday cup. NASA program scientist and project manager for the instrument Kelly Korreck, shares what it's been like to be a part of the mission.
---
We made it!
We've hit the end of the line – for now. But Parker Solar Probe will continue venturing closer to the solar surface in the coming years, bringing us new science and insight about our closest star.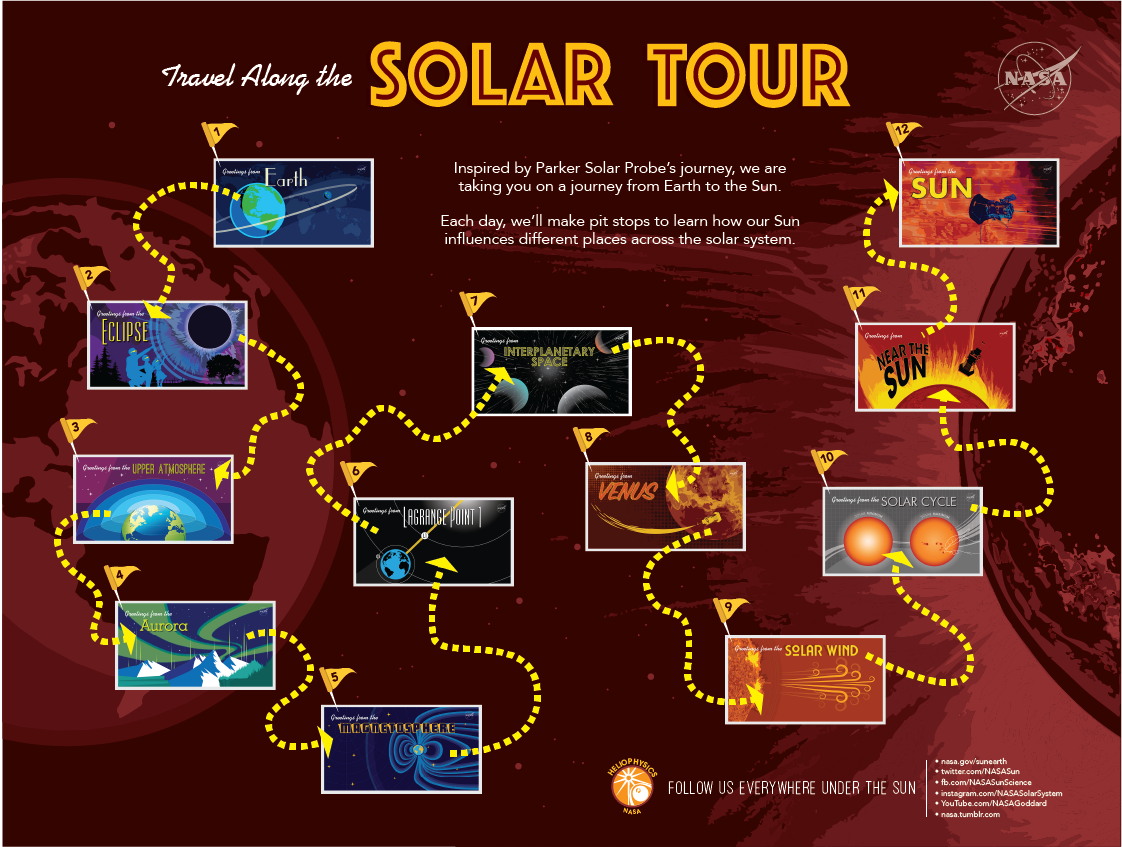 Until then, we invite you to sing along with us as we recap the 12 days of the #SolarTour in a festive song!
Record yourself singing our lyrics, and if your submission catches our eye, we may feature your video!  Here's how to participate:
Record yourself singing our

12 Days of the

#SolarTour

song (lyrics below)

.

Share your video and tag us on Facebook (@NASASunScience) or Twitter (@NASASun) for a chance to be featured on NASA's website and social media accounts!

If your submission catches our eye, we'll be in touch to obtain permission for it to be considered for sharing from one of our social media accounts or other NASA digital products.
Here are the lyrics:
On the first day of solar tour
Our bright Sun let us see
A spacecraft launch from Kennedy
On the second day of solar tour
Our bright Sun let us see
A total eclipse
And a spacecraft launch from Kennedy
On the third day of solar tour

Our bright Sun let us see
An electric atmosphere
A total eclipse
And a spacecraft launch from Kennedy
On the fourth day of solar tour
Our bright Sun let us see
Dancing aurora
An electric atmosphere
A total eclipse
And a spacecraft launch from Kennedy
On the fifth day of solar tour
Our bright Sun let us see
The magnetosphere
Dancing aurora
An electric atmosphere
A total eclipse
And a spacecraft launch from Kennedy
On the sixth day of solar tour
Our bright Sun let us see
Satellites a-zooming
The magnetosphere
Dancing aurora
An electric atmosphere
A total eclipse
And a spacecraft launch from Kennedy
On the seventh day of solar tour
Our bright Sun let us see
Dust and plasma drifting
Satellites a-zooming
The magnetosphere
Dancing aurora
An electric atmosphere
A total eclipse
And a spacecraft launch from Kennedy
On the eighth day of solar tour
Our bright Sun let us see
Venus that we're passing
Dust and plasma drifting
Satellites a-zooming
The magnetosphere
Dancing aurora
An electric atmosphere
A total eclipse
And a spacecraft launch from Kennedy
On the ninth day of solar tour
Our bright Sun let us see
Solar wind a-blowing
Venus that we're passing
Dust and plasma drifting
Satellites a-zooming
The magnetosphere
Dancing aurora
An electric atmosphere
A total eclipse
And a spacecraft launch from Kennedy
On the tenth day of solar tour
Our bright Sun let us see
A solar cycle growing
Solar wind a-blowing
Venus that we're passing
Dust and plasma drifting
Satellites a-zooming
The magnetosphere
Dancing aurora
An electric atmosphere
A total eclipse
And a spacecraft launch from Kennedy
On the eleventh day of solar tour
Our bright Sun let us see
Switchbacks are snapping
A solar cycle growing
Solar wind a-blowing
Venus that we're passing
Dust and plasma drifting
Satellites a-zooming
The magnetosphere
Dancing aurora
An electric atmosphere
A total eclipse
And a spacecraft launch from Kennedy
On the twelfth day of solar tour
Our bright Sun let us see
We touched our Sun
Switchbacks are snapping
A solar cycle growing
Solar wind a-blowing
Venus that we're passing
Dust and plasma drifting
Satellites a-zooming
The magnetosphere
Dancing aurora
An electric atmosphere
A total eclipse
And a spacecraft launch from Kennedy