Just like a holiday gift, today was the day to open up the Super Pressure Balloon box. Yesterday, the balloon was placed on the trailer and the trailer was then parked inside the integration building. The box was inspected for any shipping damage – none was found. After reviewing the procedures and making sure all the safety checks were done, the magic moment had arrived to open the sealed box.
It was a long journey to get here in Wanaka, New Zealand. Production of this balloon started Oct. 14, 2015, and was finished three months later Jan. 28, 2016. The box was sealed tight and readied for shipping at the Aerostar production plant in Sulphur Springs, Texas. It was loaded by a forklift onto a trailer and driven to Palestine, Texas, (104 miles, 167 km) where it was put in a container to be shipped overseas with some of the other launch support equipment.
The Super Balloon was then driven to Dallas, Texas, (113 miles, 182 km) and put on a flight to Singapore (9,706 miles, 15,620 km). From there, it was flown from Singapore to Christchurch, New Zealand (5,220 miles, 8,401 km). Upon arrival, our world-traveling balloon was loaded on a truck and driven to Wanaka, New Zealand (302 miles, 486 km).
All together, that's a total of 15,445 miles (24,856 km) of travel for the balloon before it is ready to flown on a NASA balloon flight. That is a long journey…and lots of time and chances for damage to happen!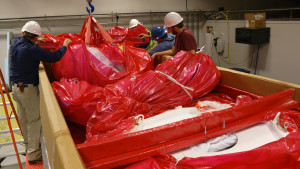 Unscrewing the lid….breaking the seal around the top edge of the box….removing the lid….carefully opening up the inner plastic liner, cardboard protection, and the last layer of protective film. Everything was perfect! Factory fresh! The balloon had survived its long journey in top shape looking just like it did when the box was closed up at the factory. No shipping damage, and ready for the next steps to prepare for launch. A holiday gift at its best.