Preparations continued throughout the weekend for NASA's upcoming super pressure balloon flight. Technicians worked on the top and bottom fittings of the balloon, installing electrical systems and the inflation ports that pass helium into the balloon.
The team's next major milestone is the balloon payload hang test, essentially a full-up launch day rehearsal going through all the tests and checkouts leading up to, but not including, rolling out the balloon and inflation. The test is scheduled for Wednesday, March 23, but forecast wet weather may delay it a day or two. The team is on-schedule and on-track to declare flight readiness at the end of the month, potentially launching as early as April 1, depending on weather.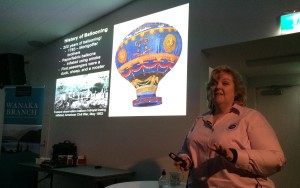 The team has been honored to support a number of outreach events in the local community over the past several weeks. Most recently, Friday, March 18, Debbie Fairbrother, NASA's Balloon Program Office chief, provided an overview of the Agency's balloon program to the Royal Society's Wanaka branch. Some 150 members of the community were in attendance.
Monday, March 21, NASA's balloon team along with the Compton Spectrometer and Imager (COSI) team presented to the Wanaka Grandview Club in Albert Town, New Zealand, with about 85 people in attendance. The Balloon Program presented first. After tea, Carolyn Kierans, a PhD candidate at the University of California, Berkeley, provided the group an astrophysics 101 overview and then discussed the science she and the COSI team, led by principal investigator Dr. Steven Boggs, plan to accomplish flying on the super pressure balloon.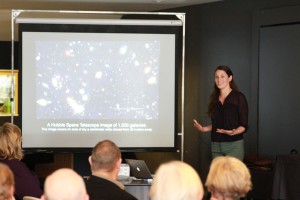 Long-duration balloon flights (up to 100 days or more) are key to scientific investigations like COSI, allowing for extended data collection and observation of difficult to detect, infrequently-occurring phenomena. The team hopes to shatter the current super pressure balloon flight record of 54 days with this upcoming flight from New Zealand.