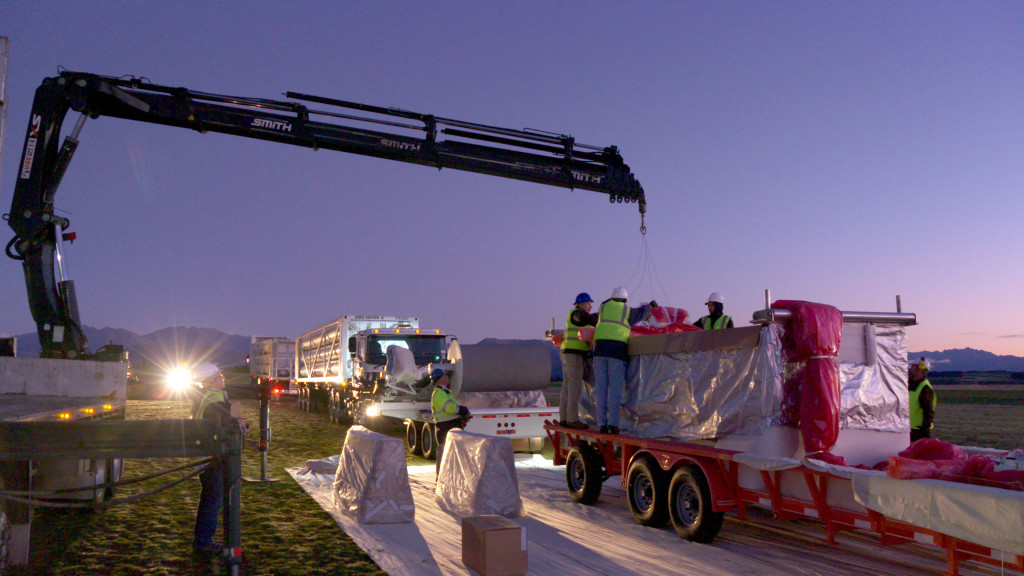 Operations Update: NASA postponed the scheduled launch of its super pressure balloon (SPB) from Wanaka, New Zealand, at 7:30 a.m. Wednesday, April 27 (April 26 at 3:30 p.m. in Eastern time), due to unacceptable weather conditions for launch operations.
The team brought the payload out to the flight line and laid out the balloon's protective ground cloth; however, low-level winds remained too high, preventing the team from moving forward with launch operations.
"It was a complex weather pattern today," said Janet Letchworth, NASA's mission manager for the Wanaka SPB campaign. "The models were showing conditions would turn favorable by launch time, but our real-time measurements on the ground showed otherwise, leading to today's cancellation."
Original Post: NASA is targeting Wednesday, April 27 (Tuesday, April 26 in Eastern Time), to conduct a super pressure balloon (SPB) test flight launching from Wanaka Airport, New Zealand, on a potentially 100-day journey.
NASA will begin flight preparations in the early morning hours Tuesday and will continue to evaluate real-time and forecast weather conditions throughout the morning. The estimated launch window (if not cancelled) is between 9 and 11 a.m. locally (between 5 and 7 p.m. EDT Tuesday, April 26).
Officials are closely monitoring wind speed and direction at the ground and lower levels. This is third time the team has turned out for a launch attempt; the previous two attempts were called off due to wind conditions.
Launch Viewing Information
Wanaka Airport officials advise that local residents and visitors will have the best vantage points for the launch from:
· The Hawea Flat side of the Clutha River
· Atop Mount Iron
· On the hill on the Hawea side of the Red Bridge by Kane Rd.
The launch can be tracked in the following ways:
· Track the progress of the flight at the following link, which includes a map showing the balloon's real-time location, at: http://www.ustream.tv/channel/nasa-csbf-ldsd
· For mission status updates follow NASA's Wallops Flight Facility social media accounts (#superballoon): www.facebook.com/NASAWFF and www.twitter.com/NASA_Wallops
· For launch updates follow on Wanaka Airport's Facebook page www.facebook.com/WanakaAirport
· For the live broadcast from Wanaka Airport tune in to Radio Wanaka 97.0FM.