After a globetrotting journey that started in Texas and included stops in Belgium and Singapore, an 18.8 million-cubic-foot (532,000 cubic-meter) super pressure balloon (SPB) arrived in Wanaka, New Zealand, March 9, in preparation for another journey—one that should take it around the world multiple times.
This is the third consecutive year NASA has flown the super pressure balloon from Wanaka, which is an ideal location for launching mid-latitude, long duration balloon missions.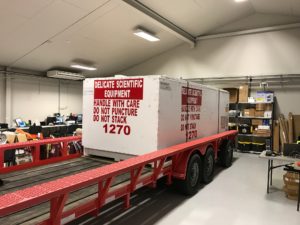 While the ongoing testing and development of the SPB is the primary focus of this year's mission, the NASA Scientific Balloon Team is flying the University of Chicago's Extreme Universe Space Observatory (EUSO-SPB) payload on this year's balloon mission.
EUSO-SPB is a high-energy cosmic ray particle astrophysics payload that will test a fluorescence detector and its supporting technologies under the severe operating conditions of the stratosphere. This suborbital flight is a precursor for a mission being planned to launch the EUSO telescope to and install it on the International Space Station (ISS).
New to the 2017 campaign is the construction of a dedicated balloon launch pad on the northeast side of the Wanaka Airport. This new pad, a 600-meter in diameter large gravel semi-circle, will enable NASA's balloon launch operations to run seamlessly alongside other airport operations and tenants on launch day.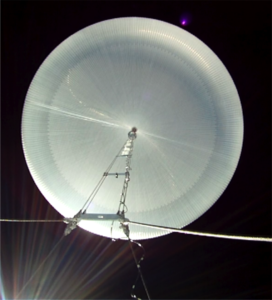 NASA's SPB is a large structure, about the size of the Forsyth-Barr Stadium in Dunedin, New Zealand, when fully inflated. The balloon is made from polyethylene film, which is similar in appearance and thickness to the type used for sandwich bags, but stronger and more durable.
NASA's Wallops Flight Facility in Virginia manages the agency's scientific balloon flight program with 10 to 15 flights each year from launch sites worldwide. Orbital ATK, which operates NASA's Columbia Scientific Balloon Facility, provides mission planning, engineering services and field operations for NASA's scientific balloon program. The CSBF team has launched more than 1,700 scientific balloons in its over 35 years of operation.
For more information on NASA's Scientific Balloon Program, visit: www.nasa.gov/scientificballoons.