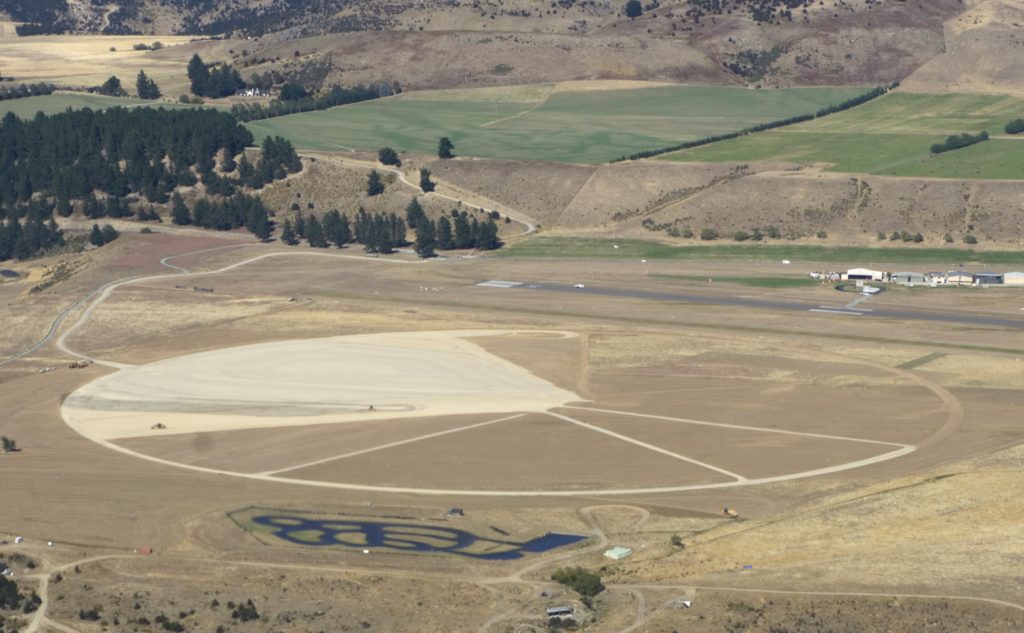 Aviators, skydivers and other altitude-seeking enthusiasts flying out of Wanaka Airport, New Zealand, are double taking at a new topographical feature reminiscent of an alien crop circle.
Rest assured, the nearly 2,000-foot (600-meter) diameter circle with a pie-shaped wedge on one side and spokes on the other is no extraterrestrial footprint and it's definitely no hoax. It's NASA's newest launch pad for launching the agency's most advanced high-altitude, heavy-lift scientific balloon: the super pressure balloon.
Construction on the project began in earnest Feb. 28 to meet a balloon launch date that could be as early as March 25. By the time the project is complete, nearly 2,000 loads of gravel will be trucked in and compacted to form the pad.
The four spokes emanating from the center and toward the west, each nearly 1,000 feet (300 meters) long, align with magnetic compass directions at 240, 260, 290 and 320 degrees. On launch day, balloon flight experts from NASA's Columbia Scientific Balloon Facility will assess meteorological data and determine if the conditions are suitable to support a launch opportunity. If so, the wind direction—reliably toward the east at the Wanaka Airport during the fall—will determine which spoke the team will use to layout the nearly 800-foot-long flight train, which consists of the balloon film (493 feet long/150 meters) and recovery parachute with cable ladder (279 feet long/80 meters).
The balloon launch vehicle, a specially outfitted heavy-duty crane, will stage near the center of the circle with the balloon gondola suspended by the crane. After the balloon is inflated and released, the pie-shaped area allows the crane operator room to maneuver and make last second tweaks to ensure the balloon flight train is nearly perpendicular to the ground prior to release/launch.
The new pad is the first major project in developing a long-term super pressure balloon launch site in Wanaka. Earlier in 2017, NASA signed a 10-year lease with the Queenstown Airport Corporation to conduct balloon operations from a newly acquired piece of land adjacent to the Wanaka Airport.