NASA's Scientific Balloon Team kicked off a day-long hang test of the Extreme Universe Space Observatory-Super Pressure Balloon (EUSO-SPB) payload March 23, a key step to certifying the flight readiness of this year's super pressure balloon mission lifting off from Wanaka, New Zealand.
The hang test is a complete test of all primary balloon systems—tracking, telemetry, communications, and flight termination systems—as well as all redundant systems to ensure the flight readiness of the balloon and payload.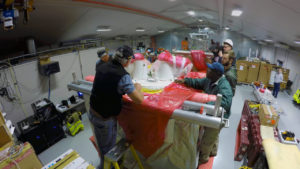 "All our test and integration work is running along smoothly," said Gabe Garde, NASA mission manager for the super pressure balloon launch. "Today's test is the culmination of more than a year of preparation work all leading up to the team declaring the balloon and payload as flight ready for the mission. After today, much will be in the hands of Mother Nature as well as in receiving overflight clearance permissions from a handful of countries."
Earlier in the day March 23, NASA leadership at headquarters and NASA's Wallops Flight Facility, home to NASA's Balloon Program, granted "Approval to Proceed" or ATP for this year's mission.
The launch window for the 2017 New Zealand super pressure balloon mission opens March 25. NASA will assess weather conditions day-to-day beginning Friday, March 24, to determine if conditions favor a next-day launch attempt. Current weather forecasts don't appear favorable for a Saturday launch due to precipitation and winds; however, a final assessment won't be made until March 24.
Later today, March 23, the Wanaka Airport and the NASA and Science teams on-site will host a Locals Day Open House event from 4 to 6 p.m. at the Wanaka Airport main hangar. Visitors will have the opportunity to learn more about the super pressure balloon technology, the EUSO-SPB science instrument flying on this year's mission, and to meet and talk with the engineers and scientists who make it all happen.
For more information on the EUSO-SPB mission, see: http://astroserve.mines.edu/euso_spb/2017-spb.html.
For more information on NASA's Scientific Balloon program, see: www.nasa.gov/scientificballoons.