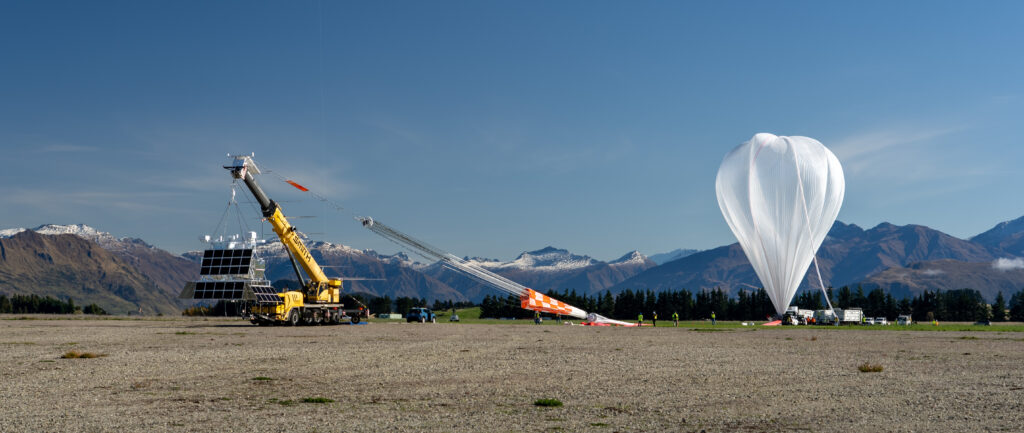 After a successful launch and more than a day in flight, our second super pressure balloon (SPB) carrying EUSO-2 developed a leak, and flight controllers safely terminated the flight over the Pacific Ocean.
The scientific balloon launched from Wānaka Airport, New Zealand, May 13, 12:02 p.m. NZST (May 12, 8:02 p.m EDT).  The balloon was in flight for 1 day, 12 hours, and 53 minutes before termination over the Pacific Ocean May 14 at 12:54 UTC (8:54 a.m. EDT). The launch was the second and final for NASA's 2023 New Zealand balloon launch campaign.
During flight, the SPB began experiencing a leak and teams attempted to troubleshot by dropping ballast to maintain the balloon's altitude. The determination was made to safely terminate over the Pacific Ocean. NASA will investigate the cause of the anomaly.
"This is an unfortunate end to the mission and we will investigate the cause to help us continue to improve the super pressure balloon technology," said Debbie Fairbrother, NASA's Scientific Balloon Program chief.
NASA conducted a thorough environmental analysis of an open-ocean landing before beginning its mid-latitude flight program in 2015. The open-ocean flight termination procedure makes use of the two-ton flight payload as an anchor to pull the entire balloon flight train to the bottom of the ocean as quickly as possible. In this way, the balloon does not remain in the primary water column zone where most marine species are known to live, minimizing environmental impacts.
The first super pressure balloon carrying SuperBIT continues to perform nominally on its fourth revolution of the Southern Hemisphere. That mission launched at 11:42 a.m. NZST, Sunday, April 16 (7:42 p.m. April 15 in U.S. Eastern Time).