It's been a busy month! I've written about going to the NASA Great Moonbuggy Race and to the Dropping In a Microgravity Environment project, but in between I made stops at two other NASA-sponsored student events: the FIRST Robotics Competition national championship in Atlanta, Ga., and the Student Launch Initiative (and University Student Launch Initiative) in northern Alabama.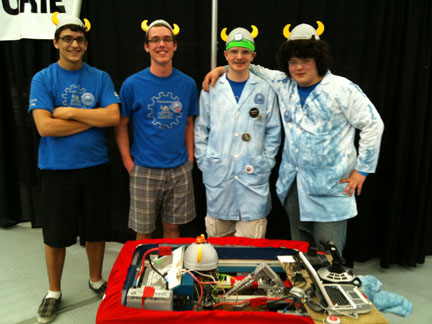 At FIRST I shadowed a team from Coeur d'Alene High School in Idaho. I met up with the team in the pit area where in between matches teams worked on their robots. The pits were buzzing with the sounds of power tools as teams made last-minute tweaks or repairs. Occasionally, a voice would come over the loud speaker announcing that a team was in need of a certain item, like a USB adapter or a two-foot section of one-quarter-inch threaded rod, to see if any teams had any of those items to share.
One thing I learned quickly is that in pit row, robots have the right-of-way. Students escorting robots from the pits to the practice area or toward the arena for a match intermittently yell "robot" to signal to others to move out of the way, a robot is coming through. Once on the floor of the Georgia Dome, it was all about the bots. These student-built robots roll, spin, flip, traverse large mounds, knock soccer balls in a goal, and, for extra points at the end of the match, lift themselves up and off the field. It's absolutely amazing what these creatures can do and that they are built and programmed by teenagers.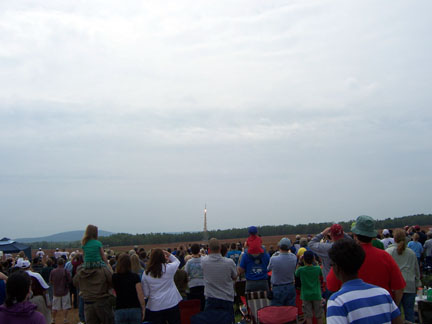 Two days after FIRST, I found myself in the middle of a field on an Alabama farm gazing up at rockets launched a mile or so in the air. The rockets were built by students participating in NASA's Student Launch Initiative, for high schoolers, and University Student Launch Initiative for college students.
While waiting for the launches to begin, I mingled around the crowd of onlookers and stumbled upon Jack Sprague, a teacher at Northwest High School in the Fort Worth, Texas, area. Jack brought a rookie team of seven students to this year's event. Each rocket must launch some sort of data-gathering experiment, or payload, and the payload on the Northwest rocket was quite interesting and unique. The team launched 200 California ladybugs to observe the effects of high acceleration on the ladybugs' life cycle. Brannon, a Northwest junior, noted that a lot of other teams' payloads fall into the mechanical engineering category, but his team was more interested in doing a science experiment. I haven't heard back yet from Jack as to how the ladybugs fared, but, if I do, look for an update in the comments.