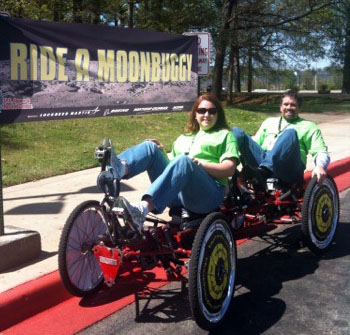 Four years ago the project managers behind the NASA Great Moonbuggy Race came to us with an idea for a feature article: for the first year in the race's 14-year history, teams were coming from outside the United States, specifically from Germany and Canada.
Since that time, the race has become a truly international event with teams this year from 18 states and Puerto Rico, Canada, Germany, India and Romania! The international teams are making quite the showing too, giving the more seasoned moonbuggy teams quite a challenge. This year, the team sponsored by the International Space Education Institute of Leipzig, Germany, placed first in the high school division, and the University of Puerto Rico in Humacao took first spot in the college division. The University of Puerto Rico team has competed in every moonbuggy race since the event started in 1994, and finally, in 2010, made a first-place finish.
Having observed the race year after year, I can assure you the moonbuggy course is no easy feat. Students' buggies must endure simulated lunar craters made out of tires covered with gravel, plus curves and steep hills. "Luna"-tic Curve is one of the more notable elements on the course and has been known to wreck a buggy or two. The 90-degree turn comes at the foot of a hill. Just before making the turn teams bounce over a rocky crater. This year team after team performed extremely well on what has a reputation for being one of the most difficult elements on the course.
My co-worker David and I pedaled one of the demo buggies around the parking lot, and even that proved difficult. Changing gears, pedaling and steering a four-wheeled, bicycle-like vehicle, all at the same time, on a flat surface was harder than I thought. I think I would fail miserably if I had to do all of those things over a mound of sand or gravel or tires, like are on the course. In our short circle around the parking lot we nearly crashed into a tent, David had to use his feet to stop us from hitting someone (that, by the way, would've been a one-minute ground touch penalty if we were on the course), and afterward we were a little out of breath. What incredible skill and stamina these students have to do that and do it well.
Check out the NASA Great Moonbuggy Race page on NASA.gov for photo galleries and more from this year's race.