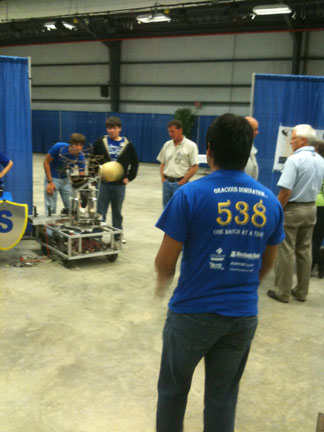 This week, several of the high school robotics teams sponsored by NASA's Marshall Space Flight Center brought their robots to the center to show their creations to NASA workers.
Having seen quite a few different robot designs in action at the FIRST nationals last month, I was familiar with the game they played at the competition and some of the robots' capabilities. I knew, for example, that this year's game, called "Breakaway," was basically robot soccer and that many of the robots had a mechanism for kicking a ball toward the goal. Several of the teams Monday were demonstrating their robots' kicking abilities by kicking a ball back and forth with the robot. I saw this and the thought hit me: his robot is like a little brother! This teenage boy and this robot are playing soccer together much like two children play soccer together, just passing the ball back and forth with their "feet."
So I asked some of the students about that, about the personalities of their robots. Do they think of them as if they are a "person?" Do they have personalities? Clark, with the team from Arab High School, said, "Yes!" The current year's robot, he said, was very stubborn. "Sometimes I wanted to jump over the wall and go, 'Don't do that!'" he said. Last year's robot, on the other hand, with its elaborate foam-ball cannon, was a bit cocky.
I was also curious about the approach students took when trying to make a robot that can multitask. This year's game offered so many different capabilities for teams to focus on, from wheel design, to agility, to mechanisms that kick or corral balls, to being able to cross over a large hump to get to the other teams' playing field, and so on. I wondered if the students ever felt overwhelmed trying to make the robot do too many things. Kendall, on the Limestone County Career Technical Center team, said they chose to focus on two main capabilities — the kicker and pusher for scoring and being able to cross the hump that separated the playing areas. They also used Mecanum wheels, which allow the robot to move in any direction, to make their robot very agile, he said.

At the event, Kendall said the scouting team watches the other robots competing to see what capabilities they have. This year's FIRST game required teams to play in alliances of three teams. During some rounds the alliances were picked for them. In the final rounds students chose their alliances. Kendall said the scouting teams looked for robots that complemented their abilities and also ones with weaknesses that they may want to oppose.

Check what a few other NASA-sponsored teams are doing, like the Space Cookies out at Ames Research Center and these teams down at NASA's Kennedy Space Center in Florida.
If you're on a FIRST team, what capabilities did your robot have? Even if you're not on a robotics team, what tasks would you like your robot to be able to do?