Check out this new video behind the scenes of NASA Student Launch Projects.
I drove down to Kennedy Space Center for the launch lastweek, and while I left without seeing the launch, I experienced what it's likewhen the launch scrubs. Actually, I experienced a series of scrubs as Discoverywas set to launch Monday and then Tuesday and so on, until finally on Fridaythe launch was moved to no earlier than Nov. 30.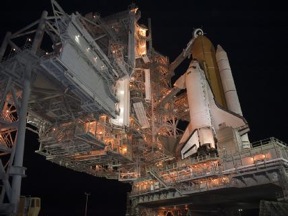 It was a bit frustrating to wake up each morning ready to gosee the launch only to have it delayed day after day but that's all part of it,part of spaceflight and part of making sure we fly safe. I hope to make it downthere again, if not for STS-133 then for the next mission, STS-134, currentlyscheduled for February of next year.
I did, however, get to ride the ShuttleLaunch Experience at the Kennedy Space Center Visitor Complex. The riderumbles and shakes, simulating what it is like riding a space shuttle intoorbit.
As far as we know, the STS-133 downlink with the crew willshift with the launch. We'll have more information about the new date and timeof the downlink later this month.
Follow mission updates on NASA's STS-133mission page, and also via tweets from @Astro_Nicole, STS-133 MissionSpecialist Nicole Stott.