The launch of STS-133 meant a lot of different things to a lot of different people. To me and to the team behind this blog and other NASA.gov education content, it meant we were much, much closer to having our long-distance phone call to the International Space Station.
We've been planning the education downlink with this crew for about six months and are so excited that it's finally here! The plan is that two NASA interns and I will talk with the crew early in the morning on Friday, March 4, asking them as many questions as we can during the 25-minute downlink.
This downlink event is unique for several reasons. First, we used social media to poll students about what questions they'd most like to see asked. We also involved students by allowing NASA interns to give us their question ideas as well.
It's unique also because we'll be talking to the entire shuttle crew plus Expedition 26 Commander Scott Kelly and Flight Engineer Cady Coleman. That's a total of eight astronauts! I'm not even sure how they'll all fit in the camera shot!
Another way it's unique is that we'll be talking to the astronauts from inside NASA's Payload Operations Center, or POC (pronounced pock).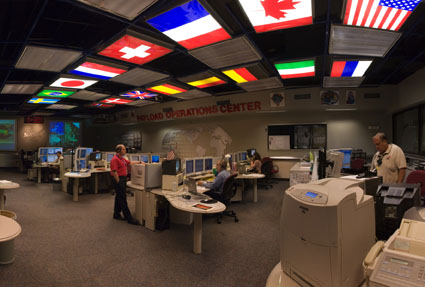 The Payload Operations Center is the science command post for the space station, located at NASA's Marshall Space Flight Center in Huntsville, Ala. The POC manages the operations of science and research experiments aboard the station.
The downlink will be streamed live on NASA TV. The current time is 6:08 a.m. CST. Watch here and on the NASA Taking Up Space Facebook page and @NASAblogTUS feed on Twitter for changes and updates.