Taking Up Space welcomes guest blogger Joel Stein, a student at Virginia Tech and an intern at NASA's Marshall Space Flight Center in Huntsville, Ala. Stein participated in the March 4, 2011, in-flight education downlink with astronauts on the International Space Station.
Joel Stein enjoys a light moment prior to the downlink withthe space station. Image Credit: Emmett Given/NASA
Waking up at 4 a.m. is difficult for any college student, but Friday I had a particularly strong incentive to get up that early with the opportunity to speak with astronauts aboard the International Space Station.  I was specifically asking (astronaut) Al Drew whether there was anything his training failed to prepare him for in space.   I arrived at the Huntsville Operations Support Center at Marshall Space Flight Center at 5, where Joe Charbonnet and I were briefed on logistics for communicating with the ISS. At 6:08, we received a phone call from the ISS.
So what is it like speaking with people 300 kilometers above you? Beyond acknowledging that this would likely be the most expensive conversation I would have in my life, I had to adjust to hearing numerous echoes caused by the lag between the audio in our headsets and voices in the room. While I was warned about this in the briefing, I was disoriented at first when someone would seemingly cut off the astronauts in conversation because there was less lag in the phone through which we were speaking than in the headsets we were listening through the rest of the time.
Once I got accustomed to the numerous voices, speaking with the astronauts on the ISS was like speaking with friends over Skype, though the occasional weightless somersault reminded me they were in freefall. The crew was fun to talk to and it was interesting to hear about life and operations on the ISS.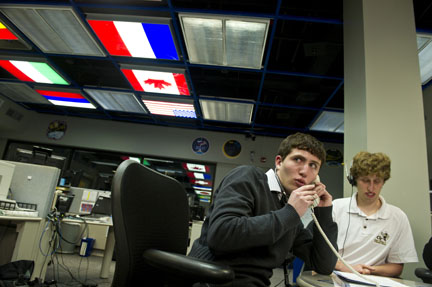 From inside NASA's Payload Operation Center, Joel Steintalks on the telephone to astronauts on the space station. Image Credit: Emmett Given/NASA