Taking Up Space welcomes guest blogger Joe Charbonnet, a student at Georgia Tech and an intern at NASA's Marshall Space Flight Center in Huntsville, Ala. Charbonnet participated in the March 4, 2011, in-flight education downlink with astronauts on the International Space Station.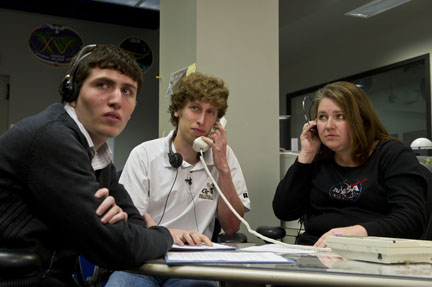 From inside NASA's Payload Operations Center, Joe Charbonnet(center) talks to the astronauts on the International Space Station. On eitherside of Charbonnet are NASA intern Joe Stein and NASA writer Heather R. Smith,who also talked to astronauts during the call. Image Credit: Emmett Given/NASA


Participating in the downlink with the STS-133 and Expedition 26 crew was a truly special experience. Beyond just the undeniable and perhaps cliché "cool factor" of being in a control room surrounded by people simultaneously monitoring six display consoles and wearing a headset while talking to astronauts in space, the event was enlightening in the insight that it provided to the perspective of our astronauts.
It was commented that given the cost of having the ear of eight astronauts for 25 minutes, this is likely the most expensive phone call I will have ever made in my life. It is a testament then to the value that we put on education here at NASA, that this opportunity was deemed worthy of those resources.  I believe that the astronauts themselves endorsed this value when Captain Steve Bowen said that the inspiration of young people to pursue the sciences is the most valuable accomplishment to come out of spaceflight so far. I can think of no better way to invest our time and resources at NASA than encouraging the pursuit of scientific discovery and exploration that can liberate the minds and spirits of our youth.
I was particularly struck by Mission Specialist Nicole Stott's answer to the question of which missions from spaceflight's history she would most like to have flown on. In responding that she would most like to fly on the missions that she has, in fact, flown during her career, she reminded me that despite its recent relative lack of media coverage, spaceflight is still exceptionally rare and that each mission is extremely valuable. We have made a mere handful –less than 200 — manned trips into space. We are making excitingly new and significant discoveries each time we fly and truly blazing the way for future generations of astronauts to make bounds beyond what we can conceive of at this time. And though not quite as select a group as the Mercury Seven, today's astronauts will still be seen as the venerable pioneers of the frontier of space. This was a thought that had not occurred to me until hearing Mission Specialist Stott's answer, and consequently was one of the most intellectually enlightening points of the downlink for me personally.
I also was struck by the heavy focus that robotics received in the blog readers' questions. A full 20 percent of the questions explicitly discussed robotics in space, and I believe that that shows great promise for this field of study as we as a society progress technologically. I think that the response to the question which I asked Colonel Eric Boe really set the stage for that line of discussion throughout the half hour. By responding that our progress in the development of robots today is analogous to that of computers 50 years ago, he conjectured a future in which robotics plays an integral role in not just spaceflight but everyday life. This is an exciting implication of the progress that NASA has made towards technology that could one day be considered essential to life on Earth. As Mission Specialist Stott later pointed out, robots are primarily a convenience — albeit a tremendous one — at this point in our spaceflight systems. From the prospective of these astronauts, one day soon we will have robots contributing not only in ways that humans couldn't perform physically, but also in roles that are imperative to life in space.
It was also refreshing, if not totally unexpected, to see the unabashed joy these astronauts have to be doing what they do. Be it the "stupid astronaut tricks" that Commander Steve Lindsey spoke of and the crew needed little prompting to perform, or Colonel Cady Coleman's comment that the thing that she most likes to look for on Earth is the absence of political boundaries, it is clear the astronauts are aware of the greatness of their opportunity. It is also loud and clear (or 5×5 in Communications parlance) that they come to space to have fun, to do important science, to inspire, and to be inspired.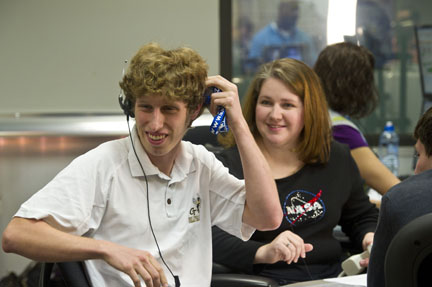 Joe Charbonnet adjusts his headset in preparationfor the downlink event. Image Credit: Emmett Given/NASA