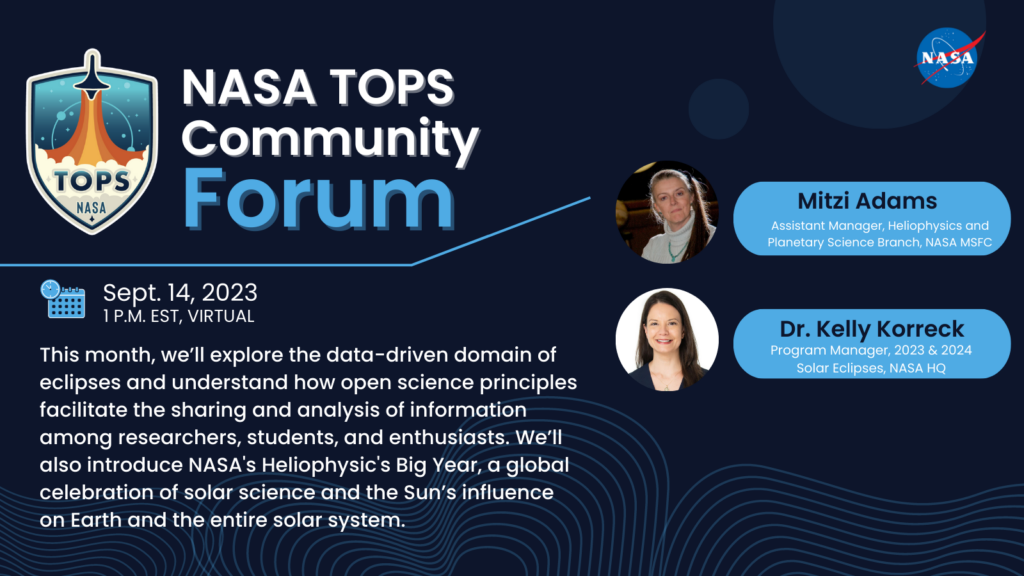 You are invited to our upcoming NASA Transform to Open Science (TOPS) Community Forum on September 14 at 1 p.m. ET for a webinar on eclipse events and their connection to the world of open science. We will discuss how eclipse research can contribute to collective research efforts, leading to innovative findings and a deeper comprehension of these phenomena. 
We are excited to have two distinguished speakers, Mitzi Adams, assistant manager of the Heliophysics and Planetary Science Branch at NASA's Marshall Space Flight Center and Dr. Kelly Korreck, program manager for the 2023 and 2024 Solar Eclipses and program scientist for the Heliophysics Division in the Science Mission Directorate at NASA HQ, will share their expertise and insights.
Adams will explore the data-driven side of eclipses and how open science principles facilitate the sharing and accessibility of data, which can lead to innovative findings and a deeper comprehension of eclipse events. 
In addition, Dr. Korreck will discuss eclipse events and how they relate to the world of open science, with an introduction to NASA's Heliophysics Big Year. This is a global celebration of science and the Sun's influence on Earth and the entire solar system.
Register now to secure your spot. This event is open to the public and will include an interactive Q&A following the presentations.
Webinar contains imagery of eclipses.