By Anna White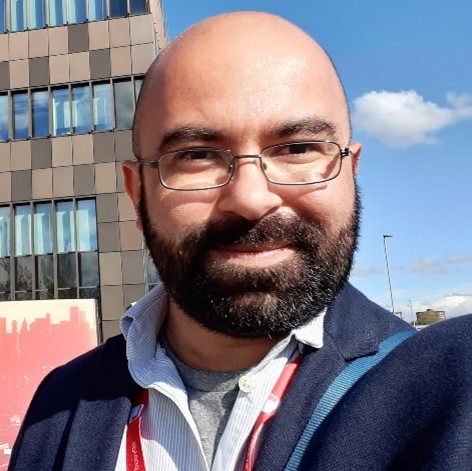 It's a closely held belief among those who practice open science that it can lead to wonderful discoveries and collaborations that can close the gap between the now and the future of science. For some in the open science community, those collaborative opportunities can take them down a path they never expected.
Early in his career in medical sciences at the University of South Carolina, Dr. Willian da Silveira jumped at the opportunity to work with NASA through a funding grant. After everything was settled and work started, he was added to an email list where he saw GeneLab, NASA's space-biology database, which is now a part of the Open Science Data Repository, promoting their Analysis Working Groups.
Established in 2018, NASA's GeneLab project created the Analysis Working Groups (AWGs) to optimize data processing and improve the effectiveness of the group's data system through the extensive use of analytics. These groups are comprised of volunteer researchers, principal investigators, professors, and students who band together to establish analytical processes and generate higher-order data from data housed in the GeneLab Data System with relevance to one or more specific application areas.
It is interdisciplinary communication like this that allows for science to grow at breakneck speeds. Mathematicians can offer new perspectives to biologists, biologists to geologists, geologists to astronomers, and so on in a never-ending loop of infinite possibilities.
"I never worked on anything so close to science fiction," recalled da Silveira. "I was once in a conference room with a person that was giving a presentation about new concepts on starships. During a coffee break, he asked me my opinion about starships…I'm a pharmacist!"
But in addition to furthering science across the globe, the AWGs have also served as simply "a good platform for meeting people," according to da Silveira.
After connecting with other members of the Multi-Omics AWG, da Silveira and his fellow AWG members wrote a publication that ended up on the cover of Cell. From there, his career blasted off; he earned his first lecturer position at Staffordshire University in England and started teaching space omics as an adjunct professor at the International Space University, where he still uses GeneLab data in his lessons. Without the AWGs, he would likely never have had these experiences that were essential to the building of his career.
"It started as a side project that I did after hours or on the weekends, but as time passed this started to move to the center of my career, something I never planned," said da Silveira. "GeneLab was essential to what I have now in my professional career."
Beyond helping with careers, open science binds people from all around the world together in community rather than competition. This free sharing of ideas and projects allows scientific minds from all experiences and backgrounds to assist in things larger than themselves, and in turn, potentially receive assistance with their own projects and gain new perspectives.
"When I entered the AWG, I was quite happy just to be part of it, and now I'm using AWG data literally around the world," says da Silveira. "I've said to people, 'Oh you think this is boring? NASA thinks this is NOT boring. At least if NASA thinks this is important, I don't have to fight too much to show how it can be important for them.'"
This is the goal of Analysis Working Groups, and by extension, open science. The freer knowledge is, the easier collaboration is, and therefore the faster the future becomes the present.
If you are interested in learning more about Open Science's many AWGs, which includes GeneLab, click here.
Anna White is an intern from the University of Alabama, supporting NASA's Marshall Space Flight Center's Office of Strategic Analysis & Communications.