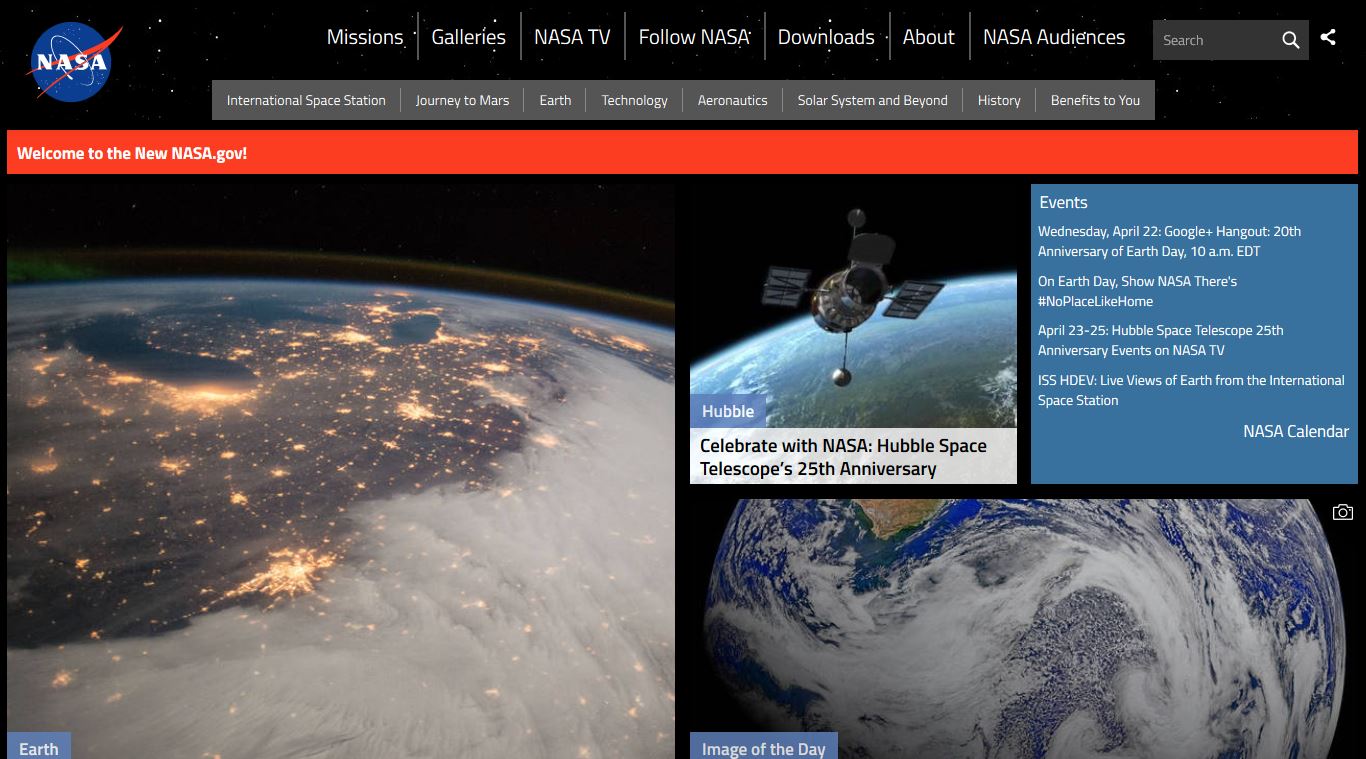 At NASA, we're always pushing ourselves to reach for new heights – and that's what we've tried to do with the redesign of our award-winning website.  The new www.nasa.gov focuses on what users have told us is the most sought-after content: mission updates, images and videos. Our new design is more modern and intuitive, and makes content more appealing and accessible to readers across all digital platforms.
It also effectively highlights the significant steps we're taking on the agency's journey to Mars. Our website features the cutting-edge technologies we're testing in space exploration and next generation air travel, the scientific discoveries we're making, and the insights we're gaining as we study our changing Earth and infinite universe. And it brings this content to visitors equally well whether you're on a smartphone, tablet or desktop computer.
NASA imagery is the focal point for the new look, along with other more dynamic content. Image and video galleries are streamlined, and a modern "infinite scroll" means users don't have to click through page after page of stories.
Our website receives more than a quarter million visits a day and has some of the highest customer-satisfaction ratings in government. And, like most sites, we've seen a real growth in mobile traffic over the last few years. Up to a third of our daily users are on mobile devices, and during live events mobile can be more than half our traffic.
The agency's internet services team incorporated the fruits of the website's success – user feedback and site metrics – to develop initial plans for the redesign, then validated the redesign through two rounds of user testing. The resulting site has a responsive design that presents content for an optimal and engaging viewer experience across a range of devices.
Enhanced site navigation reflects how the agency itself works. For example, the Journey to Mars topic includes all content related to NASA's ongoing robotic exploration of the Red Planet, as well as work to send humans to Mars in the 2030s, such as information on the Orion spacecraft and Space Launch System rocket. Content about our Launch America initiative is in the International Space Station section of the site, and the Technology section has been expanded with additional related topic pages to underscore the fact NASA technology drives exploration and scientific discovery.
Visitors also have quicker access to NASA Television and a new option for viewing it. The link to NASA TV has been pulled to the top level of navigation, and when a live event airs, a NASA TV player can be embedded in the home page.
Take an online tour of the site's new features at https://www.nasa.gov/feature/welcome-to-the-new-nasagov and enjoy the new NASA.gov.