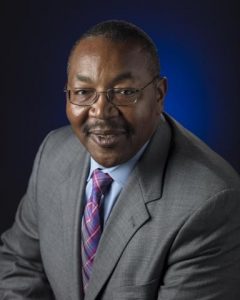 On May 1, the nonprofit, nonpartisan Partnership for Public Service announced the 2022 finalists for the Samuel J. Heyman Service to America Medal (Sammies) – an  awards program honoring excellence and innovation in federal service. Among the finalists is Gregory L. Robinson, program director for the James Webb Space Telescope at NASA Headquarters.
Selected from more than 400 nominations, Robinson has been named a Management Excellence finalist for his achievements in overseeing NASA's largest and most complex international space science program, which will enable scientific breakthroughs in nearly every branch of astronomy.
"Greg Robinson is a leader who epitomizes excellence," said Thomas Zurbuchen, NASA's associate administrator for the Science Mission Directorate. "Across a massive international program of diverse teams and perspectives, he built the trust, consensus, and motivation to see this revolutionary mission to launch."
Webb launched on Dec. 25, 2021, and endured a harrowing multi-week spacecraft commissioning period where hundreds of intricate parts synchronized to work successfully in the harsh environment of space while on its journey to its final orbit one million miles from Earth.
"I am very honored to be considered for a Service to America Medal," Robinson said. "Working with an incredible, resilient team and partners across the globe to overcome many challenges has been a great privilege. I have enjoyed a great career at NASA for over 30 years, and to be a part of the mission's historic moment when Webb launched flawlessly on Christmas Day was an awe-inspiring gift."
Since its inception in 2002, the Sammies have honored more than 650 outstanding federal employees. Robinson is among 30 federal employees across 22 federal agencies honored as 2022 Sammies finalists for their outstanding contributions to safety, public health, and sustainability across our nation and the world.
Prior to leading Webb, Robinson served as the deputy associate administrator for programs in NASA's Science Mission Directorate. He is a veteran executive, who previously served as deputy center director at NASA's Glenn Research Center in Cleveland, NASA deputy chief engineer, and as the acting National Environmental Satellite, Data, and Information Service deputy assistant administrator at the National Oceanic and Atmospheric Administration.
Webb is the first space science telescope to use a large primary mirror that consists of 18 segments and an unparalleled optical system that recently showed the world its first focused image of a single star. Recently, the Webb team successfully aligned the telescope, confirming it can capture focused images with its four onboard science instruments. Now, it is undergoing the process of commissioning the instruments so it can deliver spectacular images and spectra this summer.
The observatory will enable the study of every phase of 13.5 billion years of cosmic history – from within our solar system to the most distant observable galaxies in the early universe – to everything in between.
More About the Sammies
More information about the program and the 2022 finalists is available online. All finalists are eligible for the Service to America Medals People's Choice Award. Beginning Monday, May 2, members of the public may vote online for the federal employee they believe has made the most significant contribution to the American people. The People's Choice winner will be announced in the summer.
More About the Webb Mission
The James Webb Space Telescope, the largest and most complex science observatory ever built, is an international program led by NASA with its partners, the European Space Agency and the Canadian Space Agency. As the scientific successor to the Hubble Space Telescope, Webb will explore the secrets of the universe and reveal new discoveries to help us understand our  place in the cosmos.
For more information about NASA's Webb mission, visit https://www.nasa.gov/webb.
By Natasha R. Pinol, James Webb Space Telescope program communications lead at NASA Headquarters, Washington