There's a staggering amount of science presented every year at the American Geophysical Union meeting, Earth science's equivalent of the post-season, prom, and a college reunion all rolled into one. This year, with more than 16,000 attendees and 15,815 abstracts on the docket, was no exception.
AGU groups all the abstracts into one of 27 categories. Hydrology garnered the most attention from scientists (12.2 percent of all abstracts) followed closely by Atmospheric Sciences (11.1 percent) and finally Volcanology, Geochemistry, and Petrology (8.0 percent). The full breakdown is below: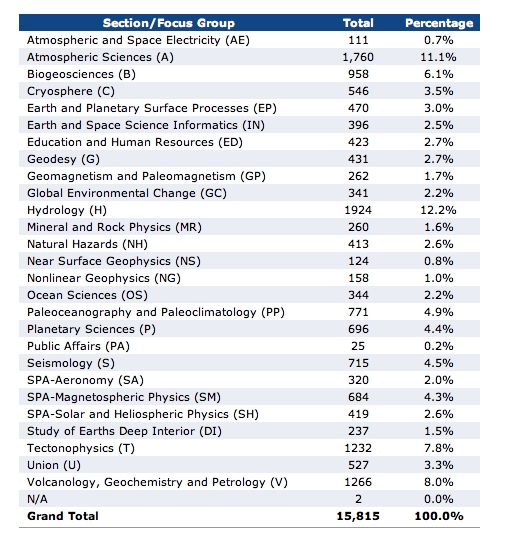 NASA, though best known for sending men to the moon and robots to Mars, had plenty of Earth science — including stories about black carbon, California's carbon budget (and dwindling water supplies), greenhouse gases, and one of our Earth observing flagships — to add to the mix as well.
–Adam Voiland, NASA's Earth Science News Team