NASA and partners are nearing the end of the 2009 Antarctic campaign of Operation Ice Bridge — a multi-year airborne survey to study Earth's polar ice sheets, ice shelves and sea ice. Data collected from the DC-8 aircraft will help scientists monitor changes in West Antarctica and bridge the gap between the ICESat and ICESat-2 satellites. Also, the close-up look — not possible from satellites — will help scientists learn more about the region's ice dynamics.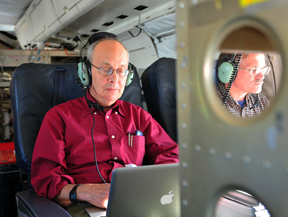 Ice Bridge scientist Seeyle Martin.  Credit: NASA
The detailed look with lasers and radar, sometimes from just 1,000 feet above the ice, is now returning a wealth of scientific information about the ice surface and what's below. And to the human eye, the low-altitude view shows West Antarctica's intricacies: the vast expanse of white giving way to deep crevasses and volcanoes, and sea ice resembling pancakes and oil slicks.
The 2009 Operation Ice Bridge campaign concludes no later than Nov. 21. Want to follow the remainder of the flights? Here's how to connect:

–Kathryn Hansen, NASA's Earth Science News Team