Credit:
Earth Science Picture of the Day/Rob Rathkowski

Earth Science Picture of the Day (EPOD) recently ran a series of photos that illustrates nicely the impact that small airborne particles called aerosols can have on light.
As EPOD notes, the size of an aureole — the halo-like circle that appears around the sun when viewed through a haze or mist — depends on the amount of aerosol in the air. More aerosols mean more light is scattered, which produces larger aureole). Since most aerosols are concentrated near Earth's surface, the aureole at sea level appears much larger than it would high on a mountain peak. You can try this experiment yourself to get a sense of the aerosol load in the air you're breathing.
Aerosols are a major preoccupation for climate scientists as the particles—including dust, ash, sea salt, soot, and industrial pollutants—can scatter light and affect Earth's energy balance. Infusions of ash and sulfate from volcanic eruptions, for example, are capable of cooling global temperatures by 0.3 degrees Celsius. Likewise, sulfate aerosols from factories and power plants can mask global warming somewhat and are often bandied around as possible components of geoengineering schemes.
Want to learn more about how aerosols scatter light? EPOD has another post on the topic that compares aureoles at sunsets in the Netherlands before (below left) and after (below right) the arrival of a massive volcanic ash cloud from the eruption of Eyjafjallajökull. Also, for optics aficionados, a site called Atmospheric Optics will walk you through a number of interesting examples of aerosols and atmospheric water and ice scattering light.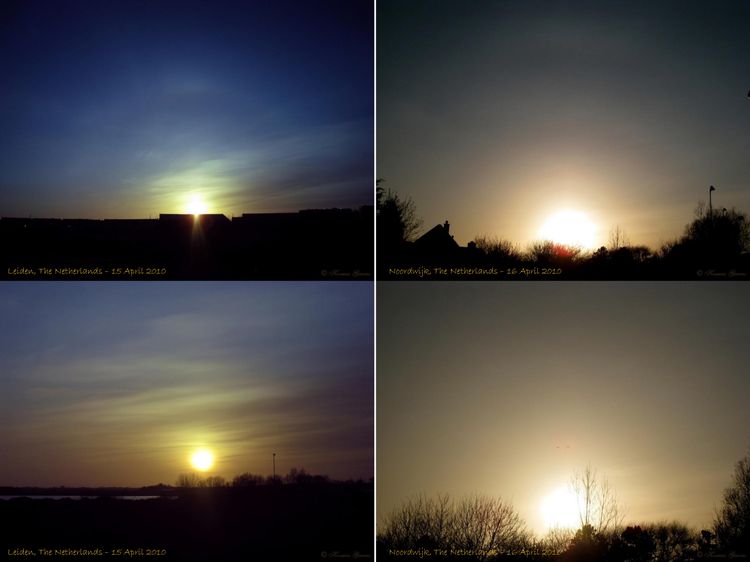 Credit: Earth Science Picture of the Day/Kosmas Gazeas
— Adam Voiland, NASA's Earth Science News Team