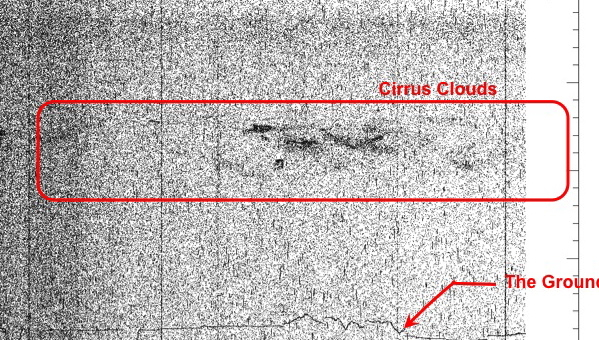 Scientists made a series of high-altitude flights this month from NASA's Dryden Flight Research Center in Palmdale, Calif., demonstrating the scientific feasibility of surface elevation measurements to be made by one of the agency's future Earth observing satellites, the Ice, Cloud and land Elevation Satellite-2 (ICESat-2). The first image (above) returned from a flight Dec. 8 clearly shows a layer of cirrus clouds and a high density of data points outlining surface elevation over California. Data in the image are preliminary and not for scientific use.
The data are from the Multiple Altimeter Beam Experimental Lidar (MABEL) instrument, assembled by a team led by ICESat-2 instrument scientist Matt McGill at NASA's Goddard Space Flight Center in Greenbelt, Md.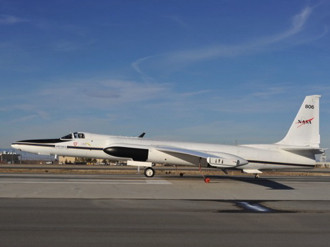 Tucked into the nose of the ER-2 aircraft (right) MABEL flew at an elevation of 65,000 feet (more than 12 miles) over five targets across the U.S. Southwest collecting surface elevation information similar to what will be collected by ICESat-2, scheduled for launch in January 2016.
"These were engineering test flights with intelligent science targets," said Kelly Brunt, a polar scientist from Goddard who was in the field as a science liaison for flight planning. "We wanted to hit spectrum of targets that represent what the scientists are interested in, such as ocean water, fresh water, trees, snow, steep terrain and salt flats.
"The density of data collected is astounding, and will allow us to characterize what we see from space," said Thorsten Markus, ICESat-2 project scientist and head of the Cryosphere Branch at Goddard.
To learn more, visit poster session C41A, "Measuring Earth's Third Dimension: ICESat, IceBridge, CryoSat, and Beyond," at 8 a.m. on Thursday, Dec. 16 at the 2010 AGU fall meeting in San Francisco, Calif.
–Kathryn Hansen, NASA's Earth Science News Team