What's a Wallops?
The question, posed by an educated Virginia resident, illustrates a general unawareness that the state is home to one of the world's oldest launch sites — NASA's Wallops Flight Facility.
The facility, named after John Wallop who was granted the land in 1692, launched its first rocket on July 4, 1945 and has since launched more than 16,000 vehicles. Beyond launches, however, Wallops is home to other modes of space and Earth science, many of which were on display June 5 at an open house celebrating the center's 65th anniversary.
Perhaps it's the center's location that keeps it hidden from the public eye. Nestled 200 miles away from urban areas, on Virginia's eastern shore near Chincoteague Island, the coastline provides a prime location for launching suborbital and orbital rockets, targets for the military and testing unpiloted aerial vehicles. Being next to the ocean allows NASA to safely test unproven vehicles and also provides a location for conducting coastal Earth science studies.
Wallops hosts a scientific balloon program, on display at the 65th open house. Adrift at high altitudes in Earth's atmosphere, balloons carry instruments that measure emissions from space, contributing most to astrophysics research. Credit: NASA

Scientists and engineers at Wallops worked with the laser instrument on NASA's Ice, Cloud, and land Elevation Sa
ESat)that measured the surface elevation of ice until fall 2009. The publiccould learn more about ICESat and plans for ICESat-2 during the openhouse.
Credit: NASA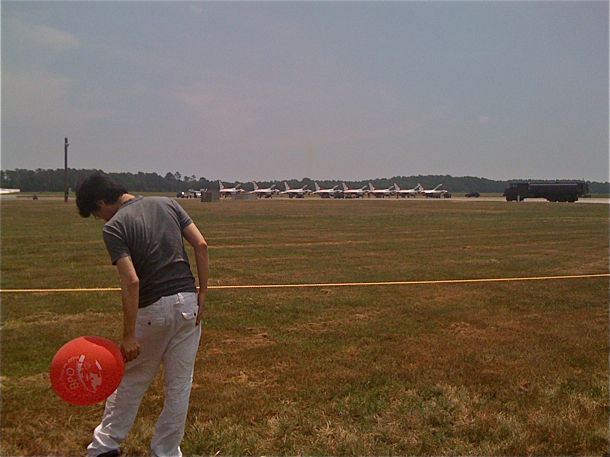 Perhaps the largest draw was the research airport. U.S. Air Force Thunderbirds lined up on the tarmac before taking off for a demonstration at an air show in Ocean City, Md. Credit: NASA
Wallops' location also lends itself to Earth science research, described in the center's roadmap as having "a focus on global climate change and the unique dynamics of the coastal zone environment."
For example, scientists at Wallops have experimented with autonomous boats to study the ocean and atmosphere, and the interaction between the two environments.
From a distance, visitors saw a more science inclined aircraft, NASA's very own P-3, just back from a mission in Greenland where it surveyed Arctic ice.
Missed the open house? Learn more about Wallops here.
— Kathryn Hansen, NASA's Earth Science News Team