When I first spoke to Tharini Jeyaprakash, I could sense drive. Motivation. Perseverance.  We chatted a few times about the NASA DEVELOP program, which was new to me.  I did some research and before long, I knew we had to discuss it here at our blog.  True to my initial thoughts about Tharini, I needn't worry.  She approached me with a post she thought worthy of Women@NASA's blog.  And I definitely agreed. So here's her story.  It's one of science.  Learning. Leadership. And, most of all, growth.
Tharini Jeyaprakash is a recent graduate from the University of Cincinnati and is working as a researcher for NASA's DEVELOP National Program. DEVELOP is a student-led, student-run research internship that utilizes NASA Earth Science measurements and predictions on projects that adress local, regional, national, and international concerns.  Project outcomes demonstrate the application and importance of NASA Earth observations in addressing environmental policy issues.  DEVELOP, under the Applied Sciences Program within the Science Mission Directorate at NASA, was recently acknowledged with NASA's Group Achievement Award.
"During subsequent terms, I was given the responsibility of leading a project and eventually leading the program in Mobile, Alabama" Tharini said. "I provided direction and support for the program involving detailed planning. Project management and professional communication were a couple of the other responsibilities that I had. I also learned the art of making movies while directing a documentary video about the project.
"It was challenging, but the experience showed me what I am actually capable of and where my passion lies. It was my dream to be associated with NASA when I decided to study Geo Informatics in Engineering in India a few years ago," she said. "It's wonderful to see my dream come true and to be serving society at the same time."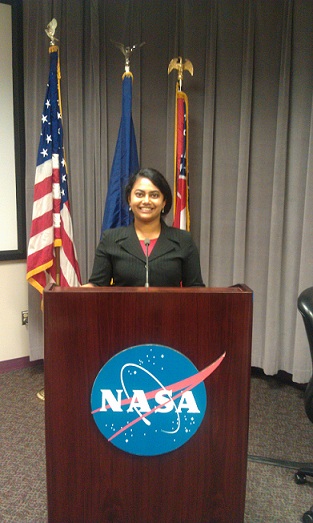 Tharini Jeyaprakash presenting the "Lake Victoria Water Resources" project at a close out session at the NASA John C. Stennis Space Center.
 According to Tharini, the program typically has a group of 3-8 students working on environmental research projects during each 10-week term.   
"We use NASA science measurements to address current issues and produce meaningful results to partners. The 'Lake Victoria Water Resources' is one such project that I worked on in which we partnered with NASA SERVIR and Lake Victoria Fisheries Organization to map invasive species in Lake Victoria, Africa, which is causing a lot of problems in three countries bordering the lake.  The methodology will be used to train the personnel to monitor and control these species. Through the NASA DEVELOP program, students get opportunities to develop their personal, research and leadership skills," she said.
Tharini undertook several successful initiatives after taking leadership in Mobile that improved the quality of research by establishing partnerships with state agencies, universities, professionals, and NASA centers. She led the most recent project which developed an innovative methodology to use satellite data that will be adopted by Alabama Forestry Commission to predict pine beetle infestation that is costing the state millions of dollars in forestry damage. The project was well received by the partners and appreciated by the scientific community. She also initiated outreach activities to educate the communities about NASA DEVELOP. She directed a movie about the recent project as one of the initiatives that is featured on Earthzine, a contribution of the IEEE Committee on Earth Observation (ICEO) in support of the Group on Earth Observations (GEO) and its mission.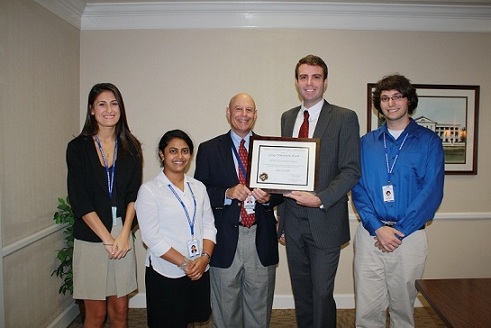 Jamie Favors, second from right, representing DEVELOP National Program Office, presents an achievement award signed by NASA Administrator Charles Bolden, Jr., to Dr. Bernard Eichold, Health Officer, and mentor of the Mobile DEVELOP program. On hand for the presentation were, from left, Mobile DEVELOP participants Marine Karepetyan of the University of South Alabama, University of Cincinnati alum Tharini Jeyaprakash, and Michael Brown of the University of South Alabama.
 "My mantra for success from high school through graduate studies has been 'Aim big. Work hard. Stay focused. Reach your goal','" says Tharini, who aspires to have a career in Earth Science research. "It has been an incredible opportunity for me as a young professional to be associated with NASA and to gain understanding of complex environmental issues that impact a large number of people."
The movie that Tharini directed can be viewed at here.
Congratulations to Ms. Tharini Jeyaprakash and the entire NASA DEVELOP team.  Best of luck from Women@NASA and may you achieve your dreams and inspire others to follow you.