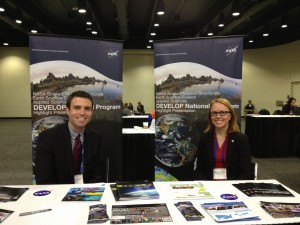 The NASA Applied Sciences' DEVELOP National Program fosters an interdisciplinary research environment where applied science research projects are conducted under the guidance of NASA and partner science advisors. DEVELOP projects focus on utilizing NASA Earth observations to address community concerns and public policy issues. The program is run from the National Program Office at Langley Research Center in Hampton, VA. Lauren Childs-Gleason and Jamie Favors serve as DEVELOP's National Lead and Deputy National Lead, respectively, and today they discuss their unique perspectives as a leadership team at NASA. 
What led you to your current roles in DEVELOP's National Program Office?
Lauren Childs-Gleason (LCG): I was introduced to DEVELOP while in graduate school at the University of New Orleans (UNO). The DEVELOP team from Stennis Space Center presented at the UNO Geography Club's first post-Hurricane Katrina meeting which I was presiding over as a new officer. I saw their presentation and it clicked – applied science, specifically applied geography, and I applied immediately.
Jamie Favors (JF): The first time I heard about DEVELOP was during my junior year of undergrad when I passed by a pamphlet attached to a corkboard in the physics building. I certainly was not expecting to find out that NASA had an internship opportunity in Mobile, Alabama, that day, but the meatball logo caught my eye. The next thing I knew I had applied, been accepted, and was sitting in an office in the local health department pretending to know what I was doing.
LCG: Jamie and I started at DEVELOP in the same term: Fall 2006. By the spring we had both been asked to step into the Center Lead role at our respective locations. I don't think either us knew what to expect or what exactly we were doing. It was intense, but once we both realized we were in similar situations, it instilled a lot of trust and open communication between us and cemented our friendship. That trust and communication continue to serve us well in our current post over six years later. In 2009 I transitioned from Stennis to Langley Research Center to serve in dual roles as the National Lead and Langley Center Lead.
JF: Lauren was already working in the program office as the National Lead for DEVELOP when we were catching up one day during a phone call. I was telling her about my ideas for what I might do next as I transitioned out of grad school in California, and we began discussing how DEVELOP had grown tremendously in the previous year. There was a great need for help with managing the projects, interns, multiple nodes, and requests from Headquarters, and so I came to Langley in the summer of 2010 to serve as the Langley Center Lead. That was a hectic summer but prepared me for when I returned in 2011 to serve as the Deputy National Lead. A year and a half later I'm still happy to be working as her deputy.
What interests you most about Earth science?
JF: My interest in Earth science and all things spatial is a product of my grandparents. My grandfather was an avid Weather Channel-watcher which meant anyone staying in his home also watched the Weather Channel. Growing up in southern Mississippi meant that there was always weather worth watching. So, I've basically been a user of Earth observations since I was about five years old. We would take a break from watching the weather for about two weeks every summer to go on a road trip that eventually took my grandparents and me across every inch of America. Driving through the cornfields of the Great Plains left a lot of time for me to study the only interesting thing in the car: the road atlas. These childhood experiences instilled in me a love of maps and a fascination in viewing the Earth from the unique vantage point of space. These two passions have guided me well in life.
LCG: I grew up in southern California and went to an elementary school on the University of California Irvine's campus that focused on the sciences. It was a very unique education that encouraged innovation and being a pioneer and instilled in me an interest in the Earth and learning about new places. I carried these concepts through my academic career and found a perfect fit in Geography. Now that I work with NASA's Earth Science Division I am inspired daily by how amazing the Earth is and at times how little we know about it. But that's the exciting part of applied sciences – using the incredible perspective of Earth observing satellites to address the planet's problems and mysteries.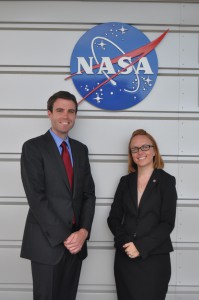 How do the two of you approach program management as a team?
LCG: It all really starts with what I was discussing earlier: trust and open communication. To be an effective leadership team you have to be able to have honest conversations about hard decisions. There is a lot of responsibility that lies in our roles, and we must be sure that we are making the most effective choices. Fortunately while we share a lot of personality traits, we also constantly think in very different terms and sometimes opposite directions. That means we are consistently exploring all potential paths forward.
JF: Debate is a big part of what happens between Lauren and me. We are constantly evaluating potential paths forward for the program, and that evaluation depends on analyzing each situation from all possible angles. It doesn't always matter what opinion each one of us has on the topic. We go back and forth picking apart each decision for its unique strengthens and weaknesses, and the side that wins, not the person, is the one that appears to be best for the program.
LCG: Exactly. If we can make a convincing argument to each other then we can be confident the decision is the culmination of the right thinking. Our office is full of lots of back and forth debate that gets pointed at times because we believe so strongly in the ultimate good of this program.
JF: Because we have the shared background of starting at the beginning level of DEVELOP as interns, I know that we measure what is good for the program in the same way. That is what pushes us to give our best and make tough decisions.
Are there challenges to being part of a male-female leadership team?
JF: Maybe it's something "unique" about our management team that we didn't appreciate before participating in this blog. I'm sure we could go into deep psychoanalysis about the intricacies of our team dynamic due to it being male and female, but the truth is that it isn't something that crosses our mind much. DEVELOP fosters an interdisciplinary, multi-aged, gender-equal environment where I am proud to say we judge people solely on their work ethic and capabilities.
LCG: We are fortunate to have many great examples of female-male leadership teams here at Langley, for example our Center Director Lesa Roe and Deputy Center Director Steve Jurczyk, and for many years former Science Directorate Director Dr. Lelia Vann served alongside current Deputy Director Gary Gibson. I have heard stories about how women I have looked up to in academia and the professional realm were treated poorly or unfairly in the workplace, but I have been fortunate not to experience that myself.
JF: Being an effective team means building off each other's strengths and filling in for each other's weaknesses. We have similar Myers-Briggs personality types (Jamie – INTJ, Lauren – ENTJ), and I see that as one of the biggest factors to how we communicate and assess the program.
LCG: There are six individuals that make up the NPO, three women and three men, and I think that helps ensure that everything we do, all of our decisions, and how we approach issues, comes from a balanced perspective – be that because of gender or personalities.
What one piece of advice would like to pass on to those who read your story?
LCG: If you're passionate about something, others can be positively impacted. Fortunately, passion is contagious. So find what you love to do and dive in. If you're out of your comfort zone, you're probably in the right place to achieve something great.
JF: Shyness is a foe to success. If you hesitate to talk to someone important because you feel that you will waste their time, then you are holding yourself back from achieving your big ideas. Walk up to people, shake hands, exchange cards, and always follow-up. If you can do that, then you are on track to achieve.