For the past few years, we have been celebrating Female Geoscientists Day and Earth Science Week by bringing you a few stories on some of the women who contribute to learning about our wonderful home-Mother Earth.  Today, we would like to introduce to you a wonderful scientist, Melissa Yang.  We hope you learn a bit from Dr. Yang and feel the same inspiration we did when we interviewed her! To learn more about the celebration, click here or here in Spanish.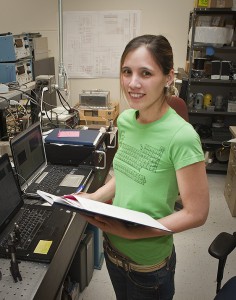 How did you discover your passion for Earth Science?
When I got into graduate school, I had the option of either joining a research group that worked on materials or one that worked on studying the atmosphere and the air that we breathe. Before this point, I had never imagined that there were people studying the air in such detail, probing different parts of the atmosphere, trying to understand the chemistry and dynamics of it. In 2006, as part of my thesis work, I had the opportunity to participate in my first NASA airborne field campaign – INTEX-B. This is where my passion for the Earth Sciences developed. I was in awe that there were actually planes flying above us measuring the air that we breathe. The complexity of the atmosphere and its chemistry amazed and thrilled me.
What do you enjoy most about what you do?
Sharing what I do with others, and trying to get them as excited as I am about the work that we do here at NASA.
What inspired you to work in this field?
My research advisor in graduate school was my biggest inspiration. He introduced me to the world of airborne science and to the research that was being done by the various groups.
Where do you work and do you remember what it was like on your first day of work?
I work in the Chemistry and Dynamics Branch at the NASA Langley Research Center. I was very nervous on my first day and super excited. I remember walking into the building and not believing that I had a job at NASA. It was a great day! Some days, I still have to remind myself that I actually work at NASA and I get all excited all over again!
This year's theme for Earth Science Week is Mapping Our World, how would you describe the role of mapping technologies (images, maps and visualizations) in your work?
I am an atmospheric chemist, an experimentalist. A lot of my work involves going into the field and collecting data, and most of the time this is on an airborne platform. The aircraft is usually my laboratory and the skies my test bed. A lot of the work we do involves flying around the world mapping the emissions from different continents and over different bodies of water. We study the chemistry and composition of plumes and try to determine their origin.
What are some of the most important lessons you have learned in your life?
Always be humble, honest and true to yourself. Remember to have perspective in everything you do.
What do you consider your greatest accomplishment?
Achieving my goal to work at NASA one day.
What was the most difficult moment of your career? What did you learn?
The most difficult moment in my career was dealing with being in an uncomfortable position and trying to deal with it on my own. What I have learned is that I need to ask for help when I need it, and I need to have perspective and try to understand things from another person's point of view – my point of view is not the only one out there.
Who has been the biggest influence on your life, and what lessons did they teach you?
There are two people who have been the biggest influence on my life to date. One is my graduate student advisor, Donald Blake, who I mentioned previously, and the other is my mentor, Waleed Abdalati, who I met through a NASA leadership training course I took in 2012.
Don Blake taught me to always be humble and that every job out there is equally important towards getting the mission done. He taught me how to look at data meticulously and carefully and not rush through things. He taught me that I can do anything I want to as long as I work hard and put my mind to it.
Waleed has taught me to look at things from different perspectives, as there is always more than one perspective. He has taught me to be open-minded and to explore all options. He is such a great leader, and his overall charisma and demeanor is something that I hope to model one day.
How has your career been different than what you'd imagined?
I am not sure that I imagined what it would be other than doing what I love doing. And I am still doing that!
Did you have to overcome any gender barriers in your career?
Yes, and unfortunately I think that even though we are in the 21st century, discrimination still exists even among my peers.
What does your future hold?
I would like to think a lot of great things!
What one piece of advice would you like to pass on to the next generation?
Have perspective in everything you do, keep an open mind and always be true to yourself and never take yourself too seriously.