By David McBride,
Director, NASA Armstrong Flight Research Center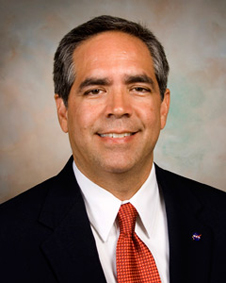 Now is a time for change. It also is an opportunity to recommit to our existing vision, mission and values.
President Barack Obama signed congressional resolution H.R. 667 on Jan. 16, 2014, changing the name of the Hugh L. Dryden Flight Research Center to the Neil A. Armstrong Flight Research Center. The name change became official on March 1, 2014.
This change is an immense honor for our center. Neil Armstrong was the first man to stand on the moon – he was also an engineer and a research test pilot at this center.
While we are changing our name, we will continue to celebrate Hugh Dryden's legacy. The center's Western Aeronautical Test Range has been renamed in his honor. Dryden was the director of the National Advisory Committee for Aeronautics from 1949 through 1958, and then served as the first deputy administrator for NASA until his death in 1965.
Dryden, when asked about the value of flight research with respect to the X-15 program, stated that the purpose is, "to separate the real from the imagined and make known the overlooked and unexpected." To that end, our vision will remain – to separate the real from the imagined through flight. And our mission will remain – advancing technology and science through flight.
We will recommit to our core values of safety, excellence, teamwork and integrity in all that we do.
Throughout our history with the NACA and NASA, our ties to the agency and our sources of funding have changed and evolved over time. But throughout all of the changes the work that we do has remained constant as we fulfill a national need with our capabilities and competencies. Our role throughout our history is in the integration of complex flight systems and their safe test and flight operations.
Though we have diversified from our core aeronautics base, the work we continue to do in science and space exploration utilizes our ability to understand problems and the connection to flight, to understand the vehicle and to safely clear the flight envelope.
\We, as the Dryden ­– and now the Armstrong – team, have the ability to make complex flight systems work safely. That will not change.