by Ellen Stofan
The theme of Expo Milano 2015 is Feeding the Planet, Energy for Life. When I visited in mid-May, even on a weekday, the Expo was packed with visitors from all over the world. At the USA Pavilion, with its beautiful and inspiring vertical farm wall, visitors received welcoming messages from President Obama and Secretary of State John Kerry on the challenges and opportunities of feeding a growing population with a changing climate.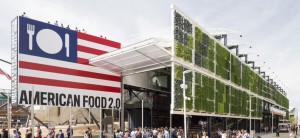 I spoke to an enthusiastic audience at the USA Pavilion about the role NASA plays in ensuring food security. From our unique vantage point of space, and as the nation's leader in developing cutting-edge capabilities, NASA plays a critical role in supporting agriculture at home and around the world.
California is suffering from a multi-year drought, consistent with what we expect from our changing climate. This is a concern for all of us in the United States, as California has a $46 billion dollar agricultural economy that helps feed this country. With agriculture using over 80% of the water in California, management of the water supply and reducing agricultural use of water is a priority that NASA is helping with. NASA's Gravity Recovery and Climate Experiment (GRACE) mission has revealed the extent of the depletion of water from aquifers, while other NASA instruments have helped to quantify potential snowpack melt that is critical to estimating the state's water budget. NASA scientists are in partnership with the private sector, the state of California and federal agencies to directly address drought-induced water resource challenges in agriculture. One NASA project uses Landsat and MODIS data to provide statewide maps of land being left fallow, helping state officials understand potential changing water demands. Another NASA project is using a combination of space and ground-based data to help farmers reduce water usage by about 30% for certain crops, showing a potential path forward to reduce agricultural water use. These examples illustrate the multiple and unique uses of space-based data in quantifying and managing water resources, to benefit our economy and our nation.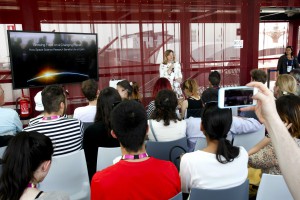 With over 2 billion people living on less than $2 per day, rising food prices can contribute significantly to hunger and malnutrition around the world, increasing global insecurity. NASA's SERVIR program, a partnership with the U.S. Agency for International Development, helps countries around the world utilize NASA data to help in response to natural disasters, manage resources including agriculture, and protect biodiversity. Through SERVIR, NASA data are helping Kenyan tea and coffee producers to reduce crop losses due to frosts, and helping African countries assess the potential effects of drought on their crops. Better food security around the world means better security for the United States.
Visitors to the Expo were surprised and energized to hear what NASA is doing, and to discover that NASA data are free and available to the public. We use the same tools and techniques to study our planet as we do other planets in our solar system. We bring NASA scientists, engineers and technologists together with citizen scientists to use the unique global view of this complex planet and gather the data we need to grow our economy through better resilience to disasters, managing our water resources and enhancing food security.
The author is NASA's Chief Scientist.