NASA science takes many shapes, and we're always pushing the boundary of what is achievable. I've just had an incredible opportunity to take part in one of our amazing missions that is gazing beyond our solar system in a unique way.
The flying observatory called SOFIA, the Stratospheric Observatory for Infrared Astronomy, is in Christchurch, New Zealand, to study parts of the universe more easily visible from the Southern Hemisphere. It carries a 2.5-meter telescope inside a Boeing 747SP jetliner to observe the cosmos at infrared wavelengths. These observations are not possible from the ground, because water vapor in Earth's atmosphere absorbs almost all the infrared light before it reaches the ground's surface. SOFIA flies above 99 percent of this water vapor, at 38,000-45,000 feet in altitude, while carrying some of the world's most powerful instruments not currently available on space-based observatories.
These unique capabilities enable scientists to study the origins of our universe in ways that no other observatory can. Last night I flew with the SOFIA team as they observed multiple targets in space: a nova (explosion of a star) in the constellation Sagittarius; one of the biggest stars known, named Eta Carinae, that will explode as a supernova relatively soon; and a large, newly forming star called IRAS 16562-3959. The science flight lasted ten hours, and at 61 degrees south latitude we witnessed the amazing aurora australis.
In addition to its powerful observing capabilities, SOFIA also has the unique ability to allow guest investigators, educators, journalists, and other related professionals to fly on an observing mission and see the research process first-hand. The educators fly on the observatory as part of NASA's Airborne Astronomy Ambassadors (AAA) program, a competitive professional development opportunity designed to implement active teaching methods, inspire students, and enhance scientific literacy for learners of all ages. The educators take what they learn on SOFIA back into their classrooms and communities to convey the value of scientific research, the importance of scientific and design processes, and the wide variety of science, technology, engineering, and math (STEM) career paths available to students.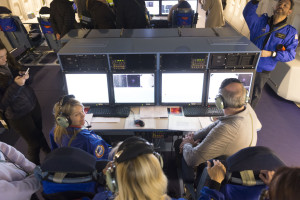 This program brings the excitement, challenges, discoveries, and teamwork of SOFIA operations to the public on a national and international scale. Indeed, SOFIA itself is a partnership between NASA and the German Aerospace Center (DLR) – our wonderful partner in many areas that also flies educators to the stratosphere aboard this incredible airborne science observatory. This one-of-a-kind program seeks excellence by promoting both advancement and literacy in science, technology, engineering, art, mathematics, and design (STEAMD) to prepare a 21st Century, interdisciplinary workforce.
SOFIA investigates the infrared universe to make discoveries light years away. It's an example of vital NASA science expanding our journey of discovery – and I look forward to following its scientific discoveries in the years ahead.