Aircraft provide a necessary perspective on earth system processes and serve to complement NASA satellite missions. Instruments on aircraft provide in situ measurements and high resolution imagery that enable on-orbit sensor calibration and algorithm development and validation. Unmanned Aircraft Systems (UAS) are of particular value where long duration or long range measurement requirements preclude a human pilot, or where the remoteness and harshness of the environment put pilots and high value aircraft at risk. The CASIE mission does well to demonstrate the need for both of these criteria and complements arctic sea ice measurements collected by ICESat.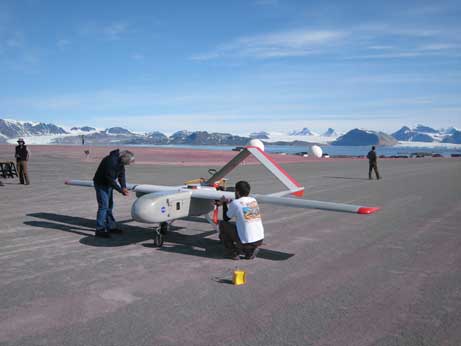 The Science Instrumentation Environmental Remote Research Aircraft (SIERRA) is a medium class, medium duration UAS originally designed by the Naval Research Laboratory (NRL). Researchers at the NASA Ames Research Center developed a partnership with NRL to evaluate the utility of this class of aircraft to the NASA earth science community. The relatively large payload (~100lbs) coupled with a significant range (500 miles) and small size (20ft wingspan) makes it an attractive observational platform that complements the current suite of modified NASA science aircraft. This UAS conducts very low altitude missions for tropospheric chemistry sampling and remote area surveys such as arctic ice reconnaissance.
For this mission the payload suite includes 2 laser altimeters, a synthetic aperture radar (SAR), zenith- and nadir-pointing micro-spectrometers, digital still and video tracking cameras, a pyrometer, and a zenith pointing pyronometer. All instruments are contained in the SIERRA in the nose-cone with the exception of the SAR which is mounted on the side of the fuselage in a pod. The SIERRA team is proud to be supporting the NASA Science Mission Directorate, Earth Science Division, Cryospheric Science Program and the International Polar Year by partnering with Dr. Jim Maslanik (U. Colorado, Boulder) and his science team on this important mission to observe arctic sea ice processes.
Posted by Matt Fladeland, SIERRA project manager