June 23, 2020 – Multiple Fires Stretch Across Arizona and New Mexico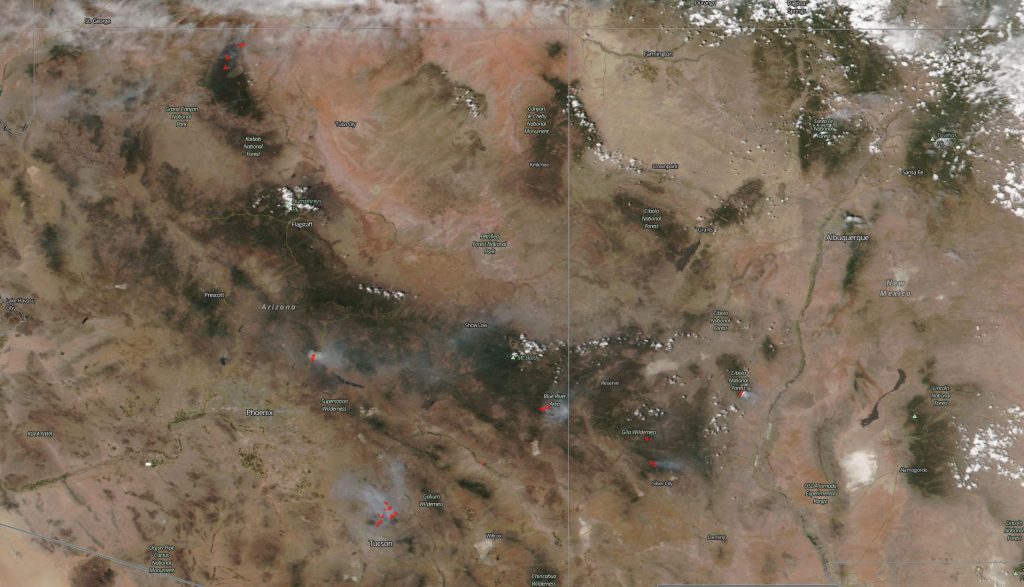 NOAA/NASA's Suomi NPP satellite captured this wide image of many of the fires that are currently plaguing the states of Arizona and New Mexico.  Besides the huge Bush Fire (near Phoenix) that is the largest fire in Arizona presently, six other fires are visible in this image.  Those fires include the Mangum Fire near the Grand Canyon, the Bighorn fire northeast of Tucson, the Bringham fire near the border with New Mexico, the Good Fire and Tadpole fires near the Gila Wilderness in New Mexico, and to the far right, the Vics Peak fire in the San Mateo mountains.  The fire season is in its early stages, but the hot, dry, and windy conditions present in that area of the country is unfortunately a combination which creates the "perfect storm" for fires to break out.
This image was captured on June 22, 2020, by the VIIRS instrument which  is a 22-band radiometer that collects infrared and visible light data to observe weather, climate, oceans, nightlight, wildfires, movement of ice, and changes in vegetation and landforms.
NASA's Earth Observing System Data and Information System (EOSDIS) Worldview application provides the capability to interactively browse over 700 global, full-resolution satellite imagery layers and then download the underlying data. Many of the available imagery layers are updated within three hours of observation, essentially showing the entire Earth as it looks "right now." Actively burning fires, detected by thermal bands, are shown as red points. Image Courtesy: NASA Worldview, Earth Observing System Data and Information System (EOSDIS).  Caption credit: Lynn Jenner