July 4, 2011
Today, July 4th, marks the tenth day of ICESCAPE. I asked scientists on board the Healy to send their favorite photo from the mission thus far. Some submissions featured patriotic symbols, others represented teamwork, and still others showed stunning, rare views of the Arctic environment.
Below are a few of our favorites. See all of the photo submissions here.
Spirit of the Fourth of July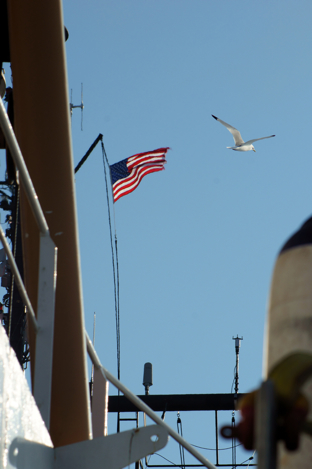 A flag and sea gull fly high over the U.S. Coast Guard Cutter Healy during the 2011 ICESCAPE mission. Credit: Kuba Tatarkiewicz/Scripps Institution of Oceanography
Diatom of the Chukchi Sea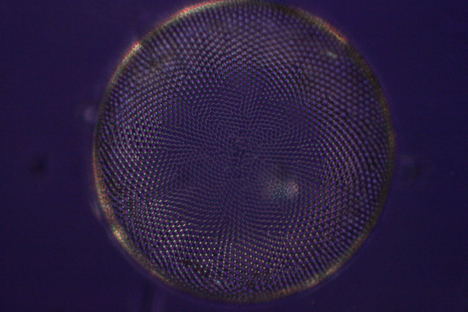 William Balch stays up late at night in the Healy's dark room doing microscopy to find out which phytoplankton species live in the Arctic Ocean. A particular sample retrieved on July 3, 2011, from just 2 meters below the surface was full of the diatom Coscinodiscus sp. (above). This picture shows one glass frustule ("half of a pill box") of the diatom photographed under a background illumination with polarized light at 200X magnification. 
"This species pretty much dominated the phytoplankton biomass at this particular station," Balch wrote about the diatom. "Note the amazingly intricate pattern of holes (aeriolae) in the frustule. These holes are how gases, nutrients, carbon-containing molecules pass in and out of the cell." Credit: William Balch/Bigelow Laboratory for Ocean Science
Stars and Strips Over an Ice Core

On July 4, 2011, scientists worked on the sea ice for the first time of the 2011 mission, where they collected ocean, ice and optics data. Credit: Don Perovich/CRREL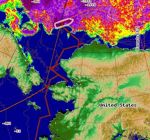 Ship Position at 2011/07/04 17:30:50
Long: 168 27.415 W   Lat: 72 40.285 N