July 28, 2011
Mustang suits are hung, boxes packed, and pagers turned in. Tomorrow we arrive in Seward, Alaska, and step foot on land again for the first time in 34 days. Here's a look at the ICESCAPE 2011 campaign by the numbers.
Days at sea: 34 (tomorrow, after docking in Seward, Alaska)
Days of science data collection: 26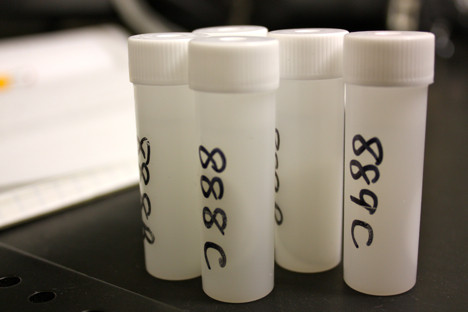 On July 25, 2011, the final water samples of the ICESCAPE mission awaited analysis in the lab on board the U.S. Coast Guard Cutter Healy.
Arctic Waters
Ocean stations: 173
Chlorophyll samples: 889
Casts of the CTD/rosette package:188
Bottles fired on the rosette: 1,626 (48,780 liters of water – most was returned to the ocean!)
Salinity samples from CTD/rosette: 924
Nutrient samples from the CTD/rosette: 949
Casts of optical instruments (PRR and IOP) from the Healy: 47 each
On the Ice
Ice stations: 9
Measurements of spectral albedo (the amount of light reflected from the ice): 95
Measurements of light transmission above and below the ice: 242 sets
Measurements of ice thickness with the electromagnetic inductance device: 2,411
Nutrients samples from melted ice cores: 359
Nutrient samples from under the ice (including melt ponds): 65
Small Boat
Small boat excursions: 15 (14 successful – one outing returned early due to leads in the ice closing in around the boat).
Swimming polar bears sighted at eye level: 1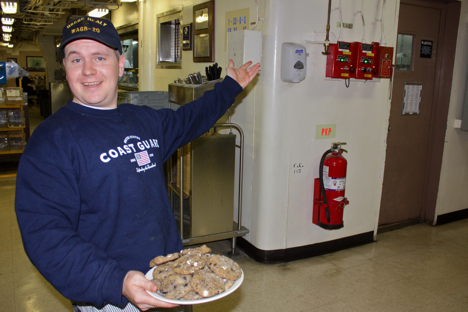 FS3 Gary Arndt frequently made rounds around the ship with a plate of delicious warm cookies. Credit: NASA/Kathryn Hansen
Ship Life
Tournaments: 4 3 (cribbage, basketball, ping pong and soccer)
Band practices: 5
Enchiladas rolled: more than 1,000
Pounds of pasta boiled: more than 500
Cookies baked: more than 3,000
Coffee drinks served in the ship's java hut: more than 300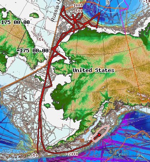 Ship Position at 2011/07/29 02:39:20
Long: 152 55.015 W   Lat: 56 48.921