July 22, 2011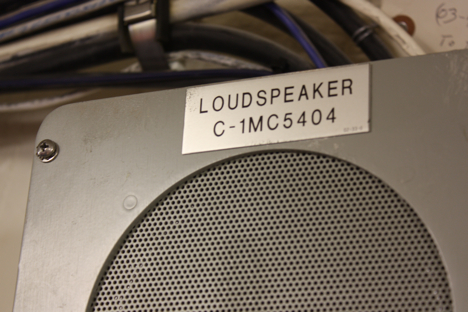 Sounds from the lab and from ice stations area as ephemeral as sea ice in summer. One sound, however, will not soon be forgotten by any ICESCAPE scientist on board the Healy: the ship's alarms.
The sound (above) is a flood alarm that was broadcast earlier this week on the ship's loudspeakers. Scientists reported to the science lounge as crew responded to the incident and found just a small leaky pipe. The Healy was built to be minimally crewed, and the numerous sensitive sensors on board help keep watch and keep us safe.
Possibly the most memorable broadcast is the daily noontime test of the ship's alarms. From toxic gas and flight crash to ship's whistle, the memorable sounds will echo in our minds long after we have left the Healy.
The loudest broadcast, however, comes every Friday when the ship enters a training environment.
U.S. Coast Guard FS3 Zachary Young dressed down to respond to a report of "smoke" during training drills on July 22. As Coast Guard crew practice their craft, scientists on board do their best to stay out of the way.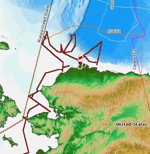 Ship Position at 2011/07/23 02:52:50
Long: 156 54.612 W   Lat: 71 18.521 N