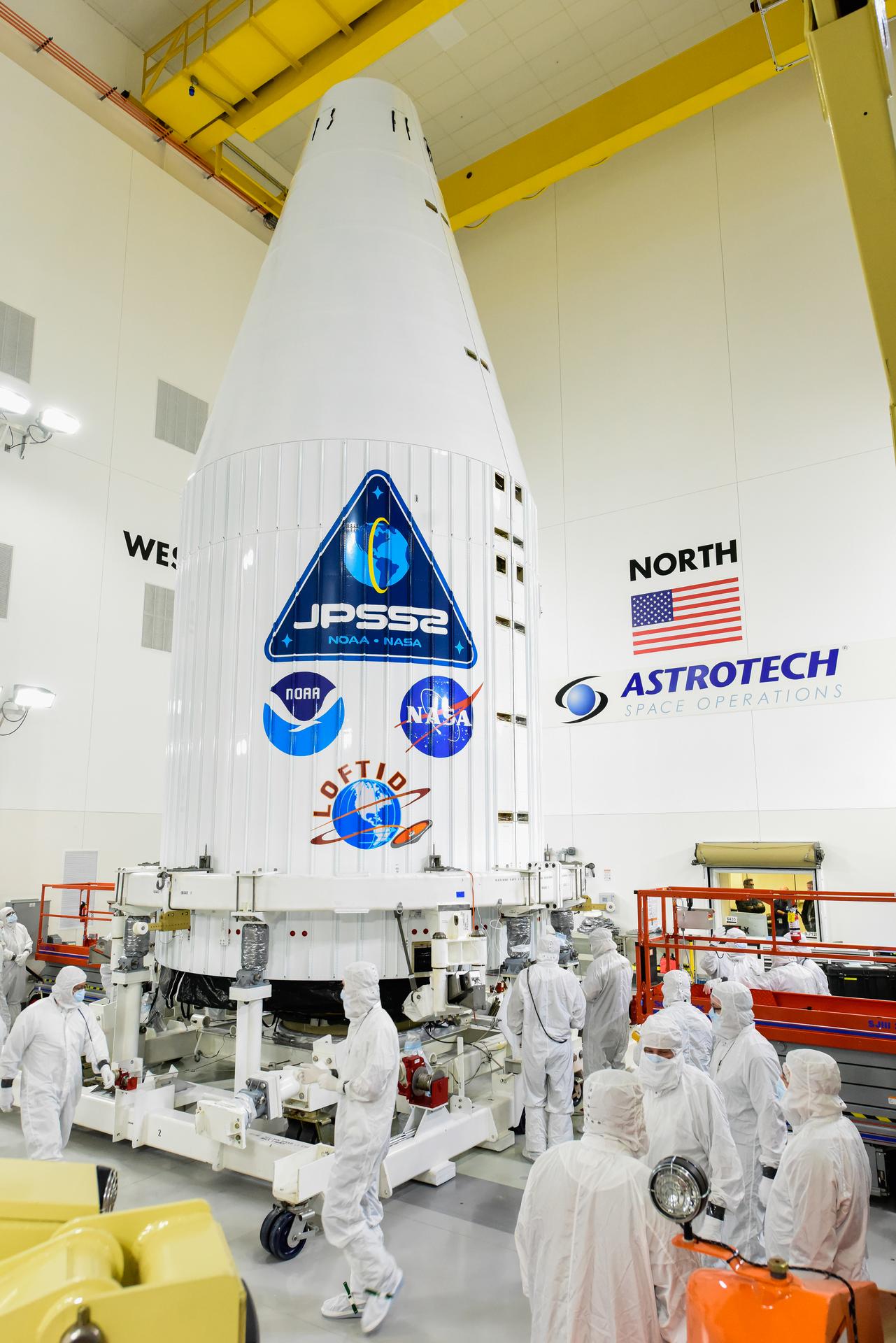 Technicians and engineers encapsulated the National Oceanic and Atmospheric Administration's (NOAA) Joint Polar Satellite System-2 (JPSS-2) satellite within a protective payload fairing inside the Astrotech Space Operations facility at Vandenberg Space Force Base in California, on Wednesday, Oct. 12.
Prior to placement inside the 4-meter-wide United Launch Alliance (ULA) fairing, teams stacked JPSS-2 onto a payload adapter canister containing the re-entry vehicle for NASA's secondary payload, known as Low-Earth Orbit Flight Test of an Inflatable Decelerator, or LOFTID. The encapsulated satellite will be transported to Vandenberg's Space Launch Complex-3 and hoisted by crane atop the second stage of a ULA Atlas V 401 rocket for launch Nov. 1 at 2:25 a.m. PDT.
At launch, JPSS-2 weighs 5,567 pounds and has four highly sophisticated instruments to measure weather and climate conditions on Earth:
The Advanced Technology Microwave Sounder (ATMS) sees through clouds like an X-ray and can view the structure of the atmosphere underneath those clouds and inside of storms.
The Visible Infrared Imaging Radiometer Suite (VIIRS) measures in the infrared and visible part of the spectrum and can image hurricanes, floods, dust storms, cloud patterns, ocean color, and help locate and map wildfires.
The Cross-track Infrared Sounder (CrIS) works together with ATMS to take detailed measurements of the atmospheric conditions needed to generate extreme weather forecasts days in advance.
The Ozone Mapping and Profiler Suite (OMPS) consists of sensors to track the concentration of ozone in the atmosphere and measure sulfur dioxide and other aerosols emitted from volcanoes and particulates from wildfires.
As JPSS-2 makes its way to a polar Earth orbit, LOFTID will re-enter the atmosphere as it descends back to Earth and will land in the Pacific Ocean just over two hours after launch. LOFTID will demonstrate how the inflatable aeroshell, or heat shield, can slow down and survive re-entry in conditions relevant to many potential applications, whether landing humans on Mars, new missions to Venus and Titan, or returning heavier payloads and samples from low-Earth orbit.
LOFTID is a partnership with ULA. NASA's LOFTID project is managed and funded through NASA's Technology Demonstration Missions program, part of the agency's Space Technology Mission Directorate.  LOFTID is led by Langley Research Center in Hampton, Virginia, with contributions from Ames Research Center in Silicon Valley, Marshall Space Flight Center in Huntsville, Alabama, Armstrong Flight Research Center in Edwards, California, and multiple U.S. small businesses that contributed to the hardware. NASA's Launch Services Program, based at Kennedy Space Center in Florida, manages the launch service.