By Knatokie Ford
This blog was originally published Nov. 30 by the White House at https://www.whitehouse.gov/blog/2015/11/25/honoring-nasas-katherine-johnson-stem-pioneer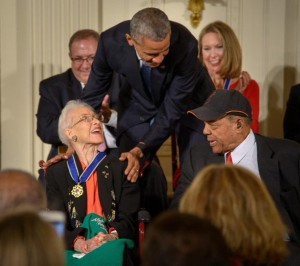 In his speech to the Congressional Black Caucus in September 2015, President Obama noted, "Black women have been a part of every great movement in American history—even if they weren't always given a voice." Most will think of this in the context of the civil rights movement, where black women helped plan the March on Washington, but were largely absent from the program, or perhaps even in the fight for women's rights, from suffrage to the feminist movement. Very few, however, may know the role that women, particularly women of color, have played as innovators and leaders in the domains of science and technology.
On November 24th, President Obama bestowed the Medal of Freedom, the Nation's highest civilian honor, to Katherine Johnson—a National Aeronautics and Space Administration (NASA) mathematician who exhibited exceptional technical leadership, calculating and verifying trajectories that took the first Americans to space and to the moon.
Johnson's recognition by President Obama marks a proud moment in American history because until recently, Johnson's critical technical contributions to the space race were largely unknown to the world. The contributions and leadership of countless scientific and technical women and people of color who have been tremendous innovators have been left out of American history books, unfortunately. That's why the Obama Administration is deeply committed to illuminating the great work and "untold history" of science, technology, engineering, and mathematics (STEM), as well as also shining a light on the great potential of all of America's children to lead the world as the next generation of discoverers, inventors, and high-tech entrepreneurs.
In addition, a feature film is in the works to share Katherine Johnson's story, along with the other three black women that were crucial to the success of the NASA space missions of the 50s and 60s. It is truly an exciting time—there is momentum building where a number of organizations seek to harness the power of media and storytelling to incite change, specifically in the STEM inclusion domain. Popular entertainment media (e.g. television and film) can influence the public's perceptions towards STEM by shaping, cultivating, or reinforcing the "cultural meanings" of STEM fields and careers. Currently, STEM men outpace STEM women 5 to 1 in family films. Entertainment media can, therefore, play a dichotomous role—it can either reinforce biases and stereotypes that discourage girls and minorities from pursuing STEM careers, or it can help to paint pictures of the inclusive STEM workforce the Nation aspires to achieve.
A number of exciting developments seek to change not only the way history has been written, but also help shape the future of who constitutes America's STEM workforce. In 2014, the White House unveiled the Untold History of Women in Science and Technology site where female leaders from across the Administration share stories of their personal STEM 'sheroes.' Earlier this year, Wikipedia, which is among the leading online educational resources, launched a Year of Science initiative that aims to not only improve the quality of science articles on Wikipedia, but also expand Wikipedia's representation of women scientists. Earlier this year, OSTP held an "Edit-A-Thon" during Black History Month to help source and share inspiring stories of African Americans who made important contributions in STEM.
Role models play an important role in shaping the future aspirations of youth and adults alike—they can help students envision themselves as STEM professionals, enhance perception of STEM careers, and boost confidence in studying STEM subjects. Katherine Johnson's recognition by President Obama along with the plans to share her story mark a proud moment in American history—she is a role model that we are excited for the world to know.
Knatokie Ford is a Senior Policy Advisor at the White House Office of Science & Technology Policy.