Thanks to First Lady Michelle Obama, gardening and eating healthy are increasingly becoming "cool" among young people. Meanwhile, after millions of people across the world watched fictional astronaut Mark Watney plant potatoes on Mars in Hollywood's The Martian, the intersection of botany and exploration has been capturing the imaginations of young and old alike — and rightfully so, the ability to grow nutritious food in space can play an important role feeding astronauts on long duration missions to destinations like Mars.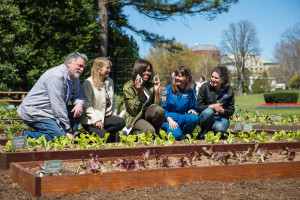 This week, my NASA colleagues, astronaut Dr. Cady Coleman, Dr. Gioia Massa and Dr. Brad Carpenter and I felt this excitement first hand, when we joined the First Lady along with school children from around the country at the White House. Together, we planted the White House Kitchen Garden – continuing an eight-year tradition the First Lady began in 2009 to inspire children to develop healthier habits, so we can raise a healthier generation of American children.
We talked to these students about the importance of studying science, technology, engineering, the arts, math and design. I was also able to share my motto:  love, act, discover, invent (LADI), which serves as my guiding principle.  They are part of what we at NASA call the "Mars Generation."  Someday they might very well view a human presence on Mars as a fact of life,  much like the continuous human presence on the International Space Station has been for the last 15 years and counting.  
NASA is on a Journey to Mars that will send American astronauts – perhaps one of the students we met at the White House yesterday! – to the Red Planet in the 2030s. Science tells us that the healthier our children are outside of the classroom, the healthier and better prepared to learn their minds will be in school.
Therefore, in addition to some delicious and nutritious veggies, the seeds we planted today might grow into the discovery, imagination, and innovation that take us all the way to Mars.
With this in mind, we were thrilled to plant the same variety of lettuce that has been grown on the International Space Station and to do it mere days before NASA's Veg-03 experiment will travel to the Station aboard SpaceX's 10th Dragon spacecraft on its CRS-8 mission as part of our commercial cargo initiative.
Veg-03 will make use of the Veggie plant growth facility, a deployable plant growth unit that's capable of producing salad-type crops in space, thereby providing astronauts with palatable, nutritious fresh food, along with a source of relaxation and recreation … gardening!
You may have read about astronaut Scott Kelly harvesting and sampling red lettuce grown with Veggie during his Year in Space.
As we advance further along our Journey to Mars and prepare to send astronauts on long – duration exploration missions, the ability to grow nutritious food in space holds tremendous promise.  Therefore, Veggie might very well lay the groundwork for feeding the astronauts who reach Mars in the 2030s, and give them a source of recreation.  At the same time, Veggie could also improve growth and biomass production at home here on Earth.
So "Let's Move!" Let's move to join First Lady Michelle Obama in raising a healthier generation of children. Let's move to inspire America's children to reach for new heights.  Let's move to plant seeds of progress both here on Earth and in space.
The benefits are truly out of this world!