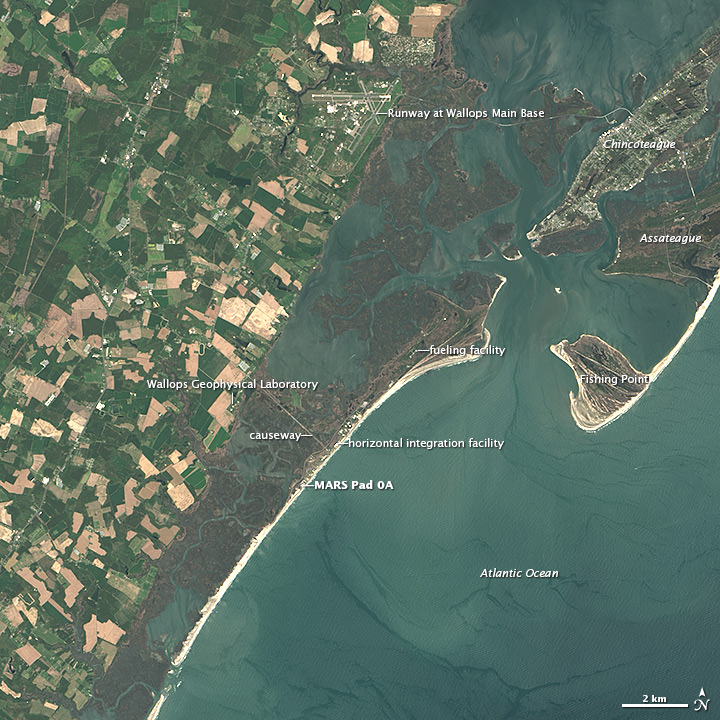 NASA's Earth Observatory provided the above satellite view, as well as a write-up of NASA's Wallops Flight Facility in Virginia: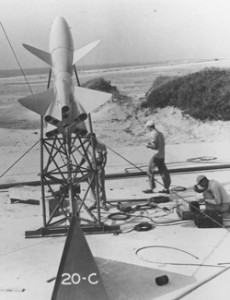 More than 70 year ago, wild ponies roamed the marshes and beaches of Wallops Island, a barrier island on Virginia's Eastern Shore. Today, the island is the site of a thriving spaceport that launches several commercial and government rockets each year.
Wallops has a long history with rockets. On July 4, 1945, NASA's predecessor (the National Advisory Committee for Aeronautics, or "NACA") launched the first rocket from Wallops, making the island one of the oldest launch sites in the world. Since then, more than 14,000 rockets have lifted off. While most involved modestly-sized meteorological and sounding rockets, the completion of Launch Pad 0A at the Mid-Atlantic Regional Spaceport (MARS) in 2011 has made it possible to launch larger and more powerful rockets.
Orbital Science Corp.'s Antares is one such rocket. Orbital's Cygnus spacecraft with cargo for the International Space Station is scheduled to launch aboard an Antares rocket on Sunday, July 13 at 12:52 p.m. EDT.
› NASA's Orbital website
› NASA's Earth Observatory: "Launching from Wallops Island"
› Launch viewing maps from Orbital Sciences Corp.
› Latest Student Science Heads For Space
› Orbital Mission Delivers Delights to Station
› NASA Launches Smartphone Upgrade and CubeSat