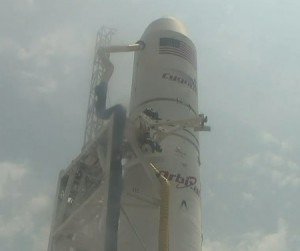 With roughly 11 minutes left in the countdown, the Orbital Sciences and NASA launch teams gave approval to launch as scheduled at 12:52 p.m. today. There are no technical issues and the weather remains 90-percent favorable.
Orbital Sciences Corp.'s Cygnus spacecraft is now on internal power.
Loaded with cargo for the International Space Station, Cygnus is launching aboard an Antares rocket from the Mid-Atlantic Regional Spaceport Pad 0A at NASA's Wallops Flight Facility in Virginia.
At the time of the Antares launch, the space station will be over Australia. Rendezvous of Cygnus with the space station is scheduled for the morning of July 16.
› NASA's Orbital website
› Launch viewing maps from Orbital Sciences Corp.
› Latest Student Science Heads For Space
› Orbital Mission Delivers Delights to Station
› NASA Launches Smartphone Upgrade and CubeSat