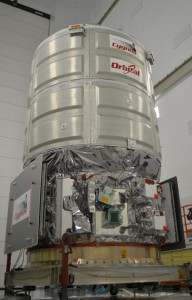 NASA's Wallops Flight Facility and Virginia's Mid-Atlantic Regional Spaceport are set to support the launch of Orbital Sciences' Antares rocket and Cygnus spacecraft at 6:45 p.m. EDT today, Oct. 27. Launch coverage on NASA TV will begin at 5:45 p.m.
The two-stage, 13-story-tall Antares utilizes a liquid-fueled first stage powered by two Aerojet Rocketdyne AJ26 engines and a solid motor ATK CASTOR 30XL upper stage to boost Cygnus into orbit. The powered launch sequence lasts about nine-and-a-half minutes from liftoff through the separation of Cygnus from the launch vehicle. This mission, CRS-3, is the first to use the larger, more powerful CASTOR 30XL second stage motor.
CRS-3 will carry about 5,050 pounds (2,290 kilograms) of cargo, the heaviest load yet delivered by a Cygnus to the International Space Station. (CRS-2, which launched in July, held 3,293 pounds of cargo.)
CRS-3 will launch from the Mid-Atlantic Regional Spaceport's Pad 0A. The spaceport, "MARS" for short, is a commercial launch site operated in partnership with NASA.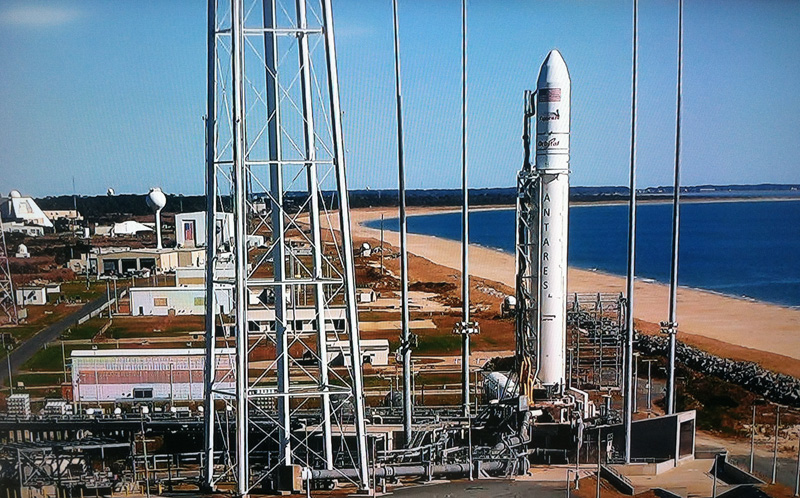 The four poles immediately surrounding the rocket help protect the rocket from lightning. The scaffolding to the left of the rocket in this view is the base of the water tower (formally the Water Deluge System), which holds some 200,000 gallons of freshwater for cooling and noise suppression purposes.
In the background, the white building with an American flag painted on its left bay is the Horizontal Integration Facility, roughly a mile away from the launch pad. The HIF is where the Cygnus is mated with the Antares rocket prior to being rolled out to the pad.
› How to view the CRS-3 launch
› Share your launch photos with NASA on Flickr
› More launch information and TV coverage details
› NASA's Orbital website
› Related images on Flickr