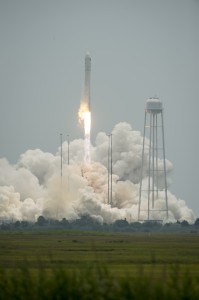 The solar arrays that will keep Cygnus' batteries charged have deployed successfully. Now that Cygnus has reached its initial orbit and is on its way to the International Space Station, launch blog coverage has concluded.
The cargo ship will rendezvous with the International Space Station on Wednesday, July 16. It will be grappled at about 6:39 a.m. by Commander Steve Swanson of NASA. He will be assisted in a backup position by Flight Engineer Alexander Gerst of the European Space Agency. Cygnus will be attached to the Earth-facing port of the station's Harmony node and will remain in place for about one month. It is scheduled depart the space station on August 15.
Visit NASA's website for continuing coverage and more information about the Orb-2 mission and the International Space Station.
› NASA Cargo Launches to Space Station aboard Orbital Sciences Resupply Mission
› Launch video on YouTube
› NASA's Orbital website
› NASA's International Space Station website
› Mission preparation and launch photographs on Flickr: 1 | 2 | 3
› Latest Student Science Heads For Space
› Orbital Mission Delivers Delights to Station
› NASA Launches Smartphone Upgrade and CubeSat