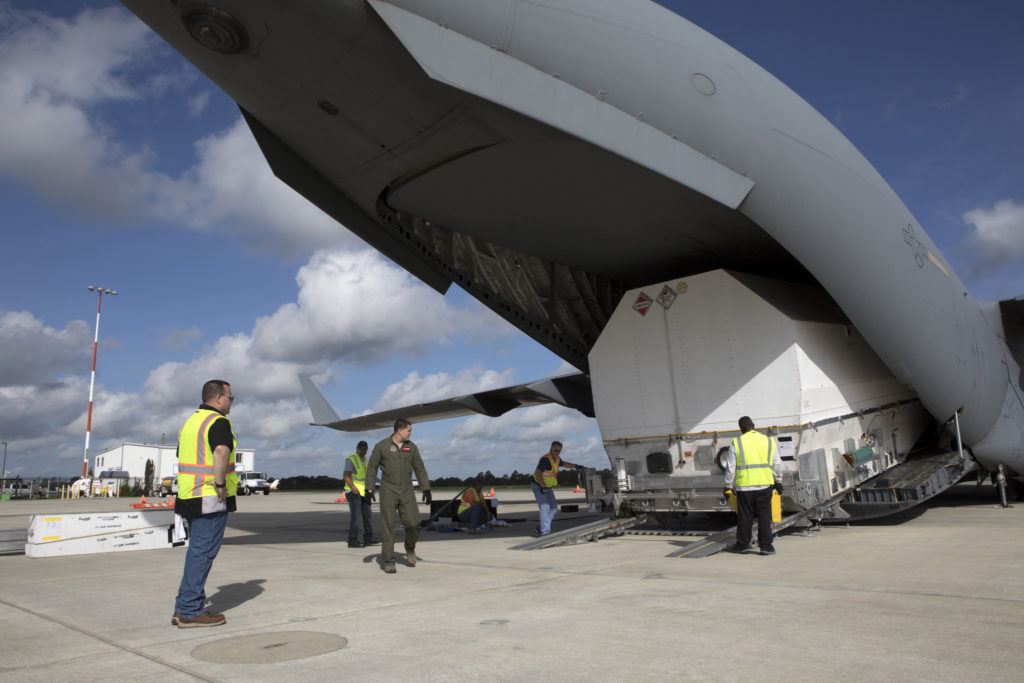 The United Launch Alliance Atlas V rocket that will provide a boost for the next in NASA's constellation of Tracking and Data Relay Satellites has arrived at Cape Canaveral Air Force Station.
The company's Mariner cargo ship delivered the rocket's first stage and Centaur upper stage to the Army Wharf at Port Canaveral on Monday afternoon. After unloading Tuesday morning, the components were transported by truck to their respective processing areas on Cape Canaveral Air Force Station, where they'll be readied for launch. The first stage now is inside the Atlas Spaceflight Operations Center and the Centaur is in the Delta Operations Center.
The TDRS-M spacecraft arrived in Florida on Friday, June 23 and is going through its prelaunch paces at the Astrotech Space Operations facility in nearby Titusville. Launch of TDRS-M aboard the Atlas V is slated for August 3 from Cape Canaveral Air Force Station's Space Launch Complex 41.
Photo at right: At Port Canaveral in Florida, a United Launch Alliance Atlas V first stage booster and Centaur upper stage are about to be transported from the company's Mariner ship to Cape Canaveral Air Force Station. Photo credit: NASA/Kim Shiflett
Save