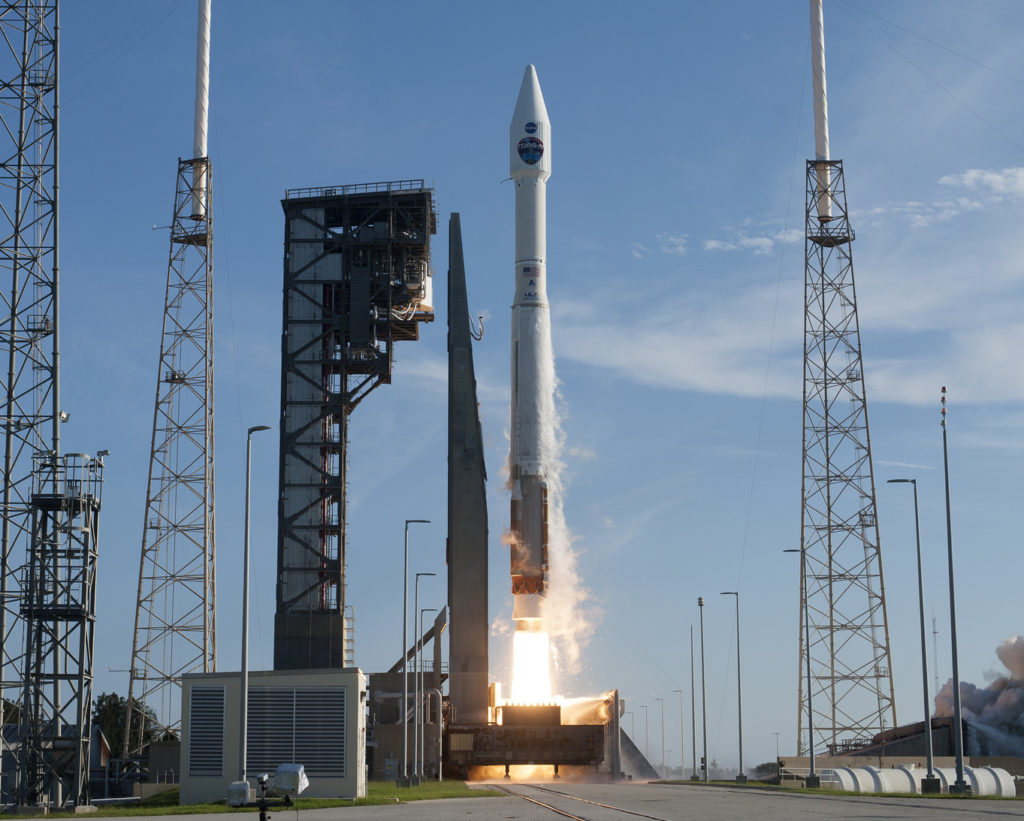 The constellation of satellites charged with maintaining critical communications between NASA's Space Network and Earth-orbiting spacecraft is about to be expanded by one.
Joining the Tracking and Data Relay Satellite (TDRS) System is TDRS-M, the third and final in a series of third-generation TDRS spacecraft that have taken their places in orbit in recent years. TDRS-M launched this morning aboard a United Launch Alliance (ULA) Atlas V rocket with a liftoff at 8:29 a.m. EDT from Cape Canaveral Air Force Station's Space Launch Complex 41.
With light winds, few clouds and temperatures in the low 80s, weather posed no threat to launch. The countdown proceeded smoothly throughout the early morning hours and into propellant-loading operations, when engineers noted an issue with the Centaur upper stage's liquid oxygen (LOX) chilldown system.
"As we were chilling the Centaur engine down, we noticed one of the chilldown parameters on the thermal conditioning for the LOX side was not quite getting cold enough" in time to permit liftoff at 8:03 a.m., when the 40-minute launch window opened, NASA Launch Manager Tim Dunn explained.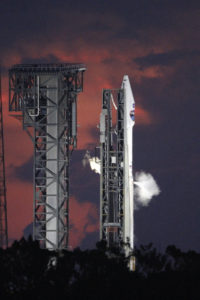 The team methodically worked to resolve the issue while maximizing that window of opportunity, and the issue was resolved in time for launch officials to set up for a successful liftoff at 8:29 a.m.
Photo at right: Just before sunrise at Space Launch Complex 41 at Cape Canaveral Air Force Station in Florida, a United Launch Alliance Atlas V rocket vents liquid oxygen propellant vapors during fueling for the lift off of NASA's Tracking and Data Relay Satellite, TDRS-M. Photo credit: NASA/Kenneth Allen
TDRS-M's predecessors, TDRS-K and TDRS-L, also launched on Atlas V rockets from the same launch complex in January 2013 and January 2014, respectively. Today's launch marked the 72nd liftoff of an Atlas V.
More than an hour and a half after launch, the TDRS-M spacecraft separated from the rocket's Centaur upper stage, heralding the end of the launch effort and the mission's beginning. Following several months of calibration and testing, TDRS-M will be renamed TDRS-13, and it will be eligible to begin supporting NASA's Space Network.
"Spacecraft separation is the best part of the launch campaign," Dunn said. "So many hours are put into getting to this exact point when you know you have a healthy satellite that just separated from the launch vehicle, about to go do its intended mission."
For further updates, visit http://www.nasa.gov/tdrs.
Save